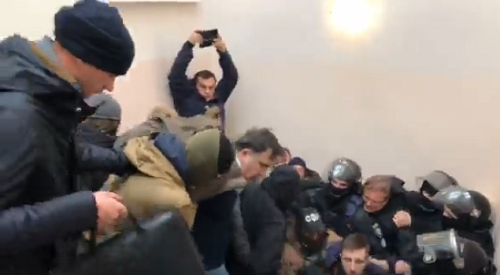 Mikheil Saakashvili escorted out of his flat in Kyiv, December 5, 2017. Photo: screengrab from facebook.com/SaakashviliMikheil
Former Georgian President Mikheil Saakashvili was detained by the Ukrainian Security Service.

Saakashvili, who leads the Movement of New Forces party in Ukraine, was apprehended in his flat in Kyiv.

Davit Sakvarelidze, one of ex-President's close associates, wrote in his Facebook post early morning today that security officers were trying to break into Saakashvili's house.

Live video footages from the scene showed heavy police presence in and around the building, with Saakashvili addressing his supporters from the rooftop and calling on them to mobilize outside the building. Later footages, however, showed him forced downstairs and pushed into a police van.

Activists who gathered outside the building blocked the road and confronted the security officers.

The police van with Saakashvili inside is presently surrounded by security officers and blocked by his supporters.