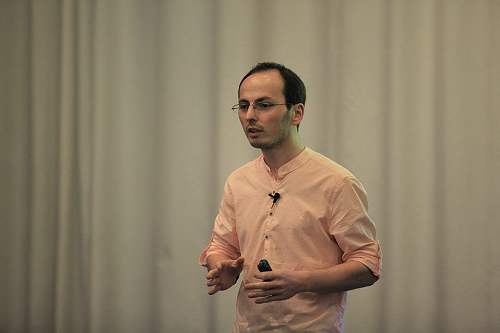 Sukhan Saladze. Photo: gyla.ge
The Georgian Young Lawyers Association (GYLA), one of the largest human rights watchdogs in Georgia, elected on December 5 Sulkhan Saladze as its new chairperson, replacing Ana Natsvlishvili, who had led the organization over the past three years.

Speaking on his priorities on December 6, Sulkhan Saladze said the organization would continue focusing on issues related to human rights, problems persisting in the judiciary, as well as media freedom.

"I personally wish to, and certainly we will talk about it further as well, to also focus on those issues, which were not actively covered by GYLA until now; one thing is clear that the country is facing serious challenges today in terms of both human rights protection and generally, with respect to good governance," Sulkhan Saladze said.

Sulkhan Saladze, a lawyer, has been working at the Georgian Young Lawyers Association since 2011. In 2016, he was appointed by the Parliament as a member of the Georgian Public Broadcaster's Board of Trustees.

According to the statute of the Georgian Young Lawyers Association, a chairperson is elected by the Board from its members for a one year term. A person cannot be elected as a Chairperson for more than three consecutive terms.