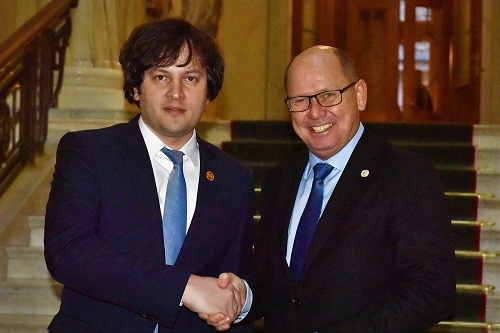 Irakli Kobakhidze and Urban Ahlin, December 6, 2017. Photo: parliament.ge
The Georgian parliamentary delegation led by Chairman Irakli Kobakhidze is paying a three-day official visit to Sweden, where he already met with Swedish Riksdag Speaker Urban Ahlin and other MPs.

Kobakhidze said following the meeting in the Swedish Parliament that the sides discussed Georgia's foreign policy priorities, and added that the Georgian side thanked the Swedish counterparts for their support of the country's EU and NATO integration processes.

On December 6, Irakli Kobakhidze also met with King Carl XVI Gustaf of Sweden, with the King saying, according to the Georgian Parliament's press office, that Sweden firmly supported Georgia's sovereignty, territorial integrity and European aspirations.

Kobakhidze's another meeting yesterday was with Swedish Foreign Minister Margot Wallström, where he informed the Minister on the humanitarian and human rights situation in the Georgian regions occupied by Russia, and stressed Sweden's role in supporting Georgia's Western aspirations.

During the visit on December 5-8, Kobakhidze will also hold talks with Hans Dahlgren, Swedish Prime Minister's State Secretary for International and EU Affairs; Oscar Stenström, State Secretary to the Minister for EU Affairs and Trade; and Carin Jämtin, Director General of the Swedish International Development Agency.