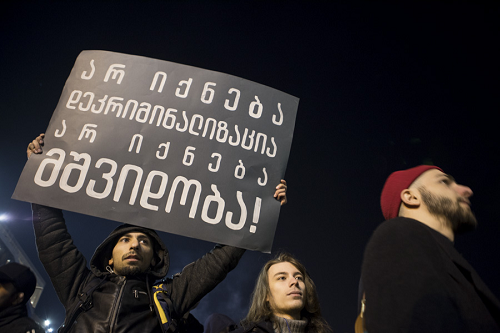 Protest rally by the White Noise Movement, December 10, 2017. Photo: Eana Korbezashvili/Civil.ge
Few thousand of activists gathered yesterday in the center of Tbilisi to protest against what they call the government's "repressive and inhumane drug policy."

The protesters demanded adoption of legislative amendments initiated in the Parliament in June 2017, which envisages decriminalization of drug use and introduces rehabilitation programs for drug addicts.

The protesters also called on the government to conduct systemic police reform and urged the President to pardon those inmates, who were imprisoned on drug-related charges.

Under the current legislation, first-time use of drugs is punished by an administrative fine, while repeated use of drugs results in criminal liability – corrective labor or imprisonment for a term of up to one year.

According to the proposed legislative amendments, use of drugs for personal purposes as well as possession of small amount of drugs will be released from criminal liability. Moreover, public agencies will be obliged to carry out measures aimed at reducing health, social and economic harms caused by drug use.

The package of legislative amendments was drafted by the National Drug Policy Platform, which incorporates 41 non-governmental organizations, including the organizer of the December 10 rally – the White Noise movement.

The proposed amendments bill was registered in the Parliament in June 2017 as a legislative proposal of five ruling party lawmakers, among them Akaki Zoidze, chairman of the Parliament's committee for health and social issues; and his deputy, Levan Koberidze. There is, however, no consensus within the Georgian Dream-Democratic Georgia on the issue.

Parliamentary Chairman Irakli Kobakhidze confirmed on December 11 that there were dissenting opinions within the ruling party, saying the parliamentary majority still needed "arguments" that liberalization would not result into increased use of drugs. He also noted that the ruling party would make its decision based on "in-depth considerations," and invited all stakeholders to engage in parliamentary discussions.

Political parties and civil society representatives have been actively calling for the drug policy liberalization over the past few years.

On November 30, the Constitutional Court upheld the constitutional lawsuit filed by a Georgian citizen Givi Shanidze and announced as void Article 273 of the Criminal Code of Georgia, which sets imprisonment as a penalty for personal consumption of marijuana in small quantity.

After adjudicating a number of constitutional lawsuits in 2015-2017, the Constitutional Court ruled that applying imprisonment as a penalty for purchasing and possessing up to 70 grams of dried marijuana, as well as up to 100 grams of raw marijuana and 0.00009 grams of desomorphine for personal use was unconstitutional.