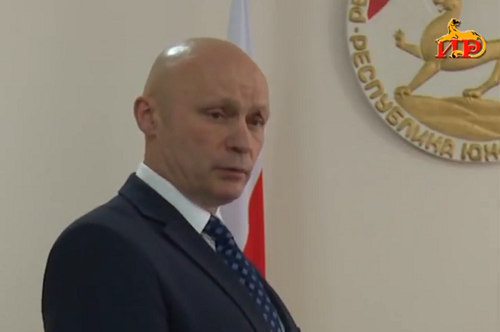 Marat Kulakhmetov, December 18, 2017. Photo: screengrab from TV Ir
On December 18 - the day of the formal campaign launch of the March 18 Russian presidential election - the Moscow-backed Tskhinvali leader Anatoly Bibilov and "the Russian ambassador to South Ossetia" Marat Kulakhmetov convened a meeting with local officials and heads of administrations to discuss the organizational details of the upcoming polls.

"About 98 percent of South Ossetian citizens are also Russian citizens," Bibilov told the attendees, adding that "everything possible needs to be done to enable every citizen of Russia living in South Ossetia to use the constitutional right and participate in presidential election." Bibilov also stressed that "every resident of South Ossetia" who was also a citizen of the Russian Federation had "an obligation to come and vote in the election."

Marat Kulakhmetov informed the attendees that "the Russian embassy" had been tasked with conducting the Russian presidential election in the region. "For this purpose, I have decided to open nine electoral polling stations in South Ossetia," said Kulakhmetov, specifying that five of them would be opened in the town of Tskhinvali, while the other four – in the centers of Znauri, Java and Akhalgori districts and in village Dmenisi.

Moscow's envoy asked the heads of the region's district administrations to compile precise lists of the Russian citizens residing in their administrative units before January 15, and the ministry of internal affairs "to agree on and verify the lists."

36,500 residents of Tskhinvali Region/South Ossetia were registered for Russia's presidential polls in 2012, according to the Central Election Commission of the Russian Federation. The corresponding number for Abkhazia stood at 89,000.