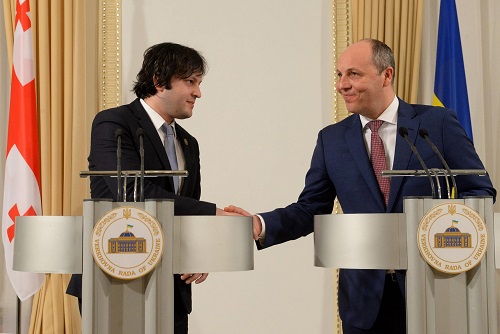 Irakli Kobakhidze and Andriy Parubiy, January 17, 2018. Photo:

facebook.com/verkhovna.rada.ukraine

Georgian Parliamentary Chairman Irakli Kobakhidze, who is paying an official visit to Ukraine on January 17-19, held talks with his Ukrainian counterpart, Andriy Parubiy and Prime Minister Volodymyr Groysman.
During the
meeting
on January 17 the Ukrainian and Georgian Parliament Speakers discussed the issues of political and economic cooperation and emphasized the importance of coordinated cooperation in international formats. Kobakhidze and Parubiy also reiterated support to the sovereignty and territorial integrity of Ukraine and Georgia, respectively.
"Ukraine and our Ukrainian friends stood by side of Georgia in the gravest moments for us," Georgian Parliamentary Chairman Irakli Kobakhidze said. "We condemn annexation of the Crimea and illegal and aggressive actions by the Russian Federation in eastern region of Ukraine."
"Our common challenge is Russian aggression, occupation of territories, and cooperation in this direction is especially important. We shall actively use bilateral and multilateral cooperation formats to achieve the goals and realize our common interests… Our common goal is to join EU and NATO and we should jointly strive for it," Kobakhidze added.
Ukrainian Parliamentary Chairman Andriy Parubiy thanked his Georgian counterpart for supporting Ukraine's territorial integrity and noted that "Ukraine feels Georgia's support in international organizations, as well as in bilateral relations."
Speaking about common challenges, Andriy Parubiy noted that regional cooperation is of particular importance for addressing the challenges. The two speakers also talked about economic cooperation and stressed the importance of strengthening Georgia's transit role and Ukraine's involvement in the Silk Road project.
On January 18, the Georgian Parliamentary Chairman met with Ukrainian Prime Minister Volodymyr Groysman and discussed economic and political cooperation issues. Volodymyr Groysman thanked Kobakhidze for his country's "permanent support" for Ukraine, saying "it is an important priority for us."
On January 19, Kobakhidze is expected to meet with Ukrainian President Petro Poroshenko.