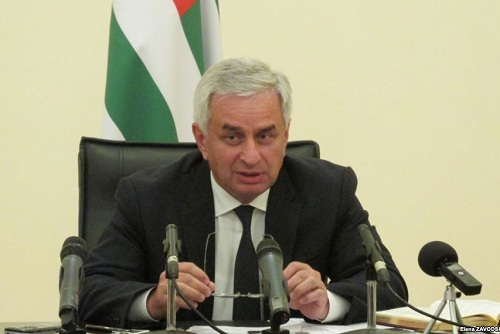 Raul Khajimba on a tour of meetings with supporters. Photo: RFE/RL
January 15-21
Bibilov preps for Putin Vote – Russia plumps for 2/3 Abkhazia Budget – Poroshenko sanction solidarity offer – Khajimba cajoles supporters…while Shamba throws lot with opposition – Russia troops drill – Tskhinvali records 514 "border" detentions – Gali IPRM meets
Russia's Network – Bibilov prepares for Putin's election: On January 15, Russian-backed Tskhinvali leader Anatoly Bibilov held a meeting with his top officials to prepare the Russian presidential election of March 18 in Tskhinvali Region/South Ossetia. "Russian ambassador" and former peacekeeping forces commander Marat Kulakhmetov participated. Bibilov called on all Russian citizens residing in Tskhinvali region to vote on March 18. Marat Kulakhmetov asked heads of the region's local administrations to assist in holding the election. Bibilov also ordered creation of a working group for the purpose of organizing the election, the first session of which took place at Tskhinvali "foreign ministry" on January 18. Nine electoral polling stations are to be opened in South Ossetia; five of them in the town of Tskhinvali, and the other four – in the centers of Znauri, Java and Akhalgori districts and in village Dmenisi.
Russia's Network – Sokhumi finalizes 2018 budget: Russian funds will comprise 57.75% of revenues in the Sokhumi Russian-backed authorities' budget for 2018. The whole amount of revenues is to be RUB 7.43 billion (USD 131.5 million), with the Russian funding officially amounting to RUB 4.29 billion (USD 75.97 million).
Western Voices – Georgia in Jim Mattis's strategy: A short and public summary of the larger and classified U.S. National Defense Strategy, supervised by the Secretary of Defense James Mattis, includes a reference to Georgia. The Strategy states that Russia "seeks veto authority over nations on its periphery in terms of their governmental, economic, and diplomatic decisions," and tries to "discredit and subvert democratic processes in Georgia."
Ukraine offers Georgia participation in the Russia sanctions mechanism: In a meeting with the Georgian Parliament Speaker Irakli Kobakhidze, President of Ukraine Petro Poroshenko offered Georgia to join the process of improving the Russia sanctions mechanism that Poroshenko said was underway. "This will help draw greater attention and stimulate Europe to continue sanctions against Russia. We can add Georgian component for South Ossetia and Abkhazia," said Poroshenko.
Sokhumi Happenings – Khajimba meets with supporters in three districts: After the opposition's recent protests against the release from prison of Giorgi Lukava, the Russian-backed Sokhumi leader Raul Khajimba went on a tour to Abkhazia's Gagra, Gudauta and Ochamchire districts, meeting with local supporters and reiterating his position that he had a right to order Lukava's release.
Sokhumi Happenings – Shamba's party joins opposition council: The United Abkhazia opposition party, led by Sergey Shamba, held a political council on January 16. Its participants criticized Raul Khajimba's decision to release Giorgi Lukava, and announced the party's participation in a newly created council of opposition parties and other organization that aims to coordinate their activities.
The Military Aspect – Russian Abkhazia base soldiers exercise: 3 000 Russian soldiers are taking part in a series of military drills taking place in Abkhazia and the Russian Federation's Krasnodar region.
On the Line – The number of Tskhinvali occupation line detentions in 2017: 514 people were detained in the Tskhinvali Region/South Ossetia occupation line area by the Russian FSB border guards and members of Tskhinvali armed units during 2017, according to Tskhinvali security service. The individuals detained at the occupation line usually are local ethnic Georgian residents tending to their property in the area.
On the Line – IPRM meeting in Gali: The 52nd meeting of the Incident Prevention and Response Mechanism (IPRM) was held in Gali on January 17. The murder of Giga Otkhozoria was discussed, with the EUMM underlining that "that justice had not been properly served." The EUMM also "drew attention to the negative impact of borderisation" on the local population, stating that it limited the local residents' access to their land and freedom of movement.