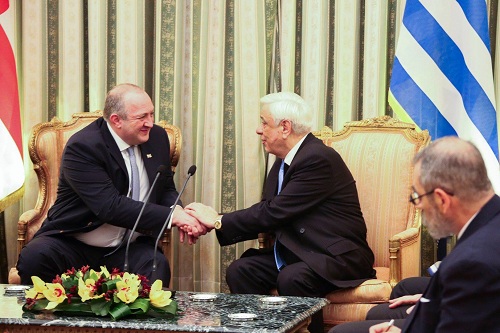 Presidents Giorgi Margvelashvili and Prokopis Pavlopoulos, February 8, 2018. Photo: president.gov.ge
"We, the Georgians, envision our future in the family of European nations … and the best place to prove our Europeanness is exactly Athens, the place that our nation decided as its geopolitical choice centuries ago," President Giorgi Margvelashvili told his Greek counterpart Prokopis Pavlopoulos on February 8.

President Margvelashvili, who is on his first state visit to Greece on February 7-9, spoke on the Greek-Georgian relations following his bilateral meeting with President Pavlopoulos.

According to Margvelashvili, with Georgia adopting Christianity in the 4th century, the country had made a geopolitical choice, and "since then, the two nations have had similar positions on strategic and geopolitical matters."
#Georgia's #European choice was made when my country and #Greece similarly envisioned the future of the development of our countries and region.

— President Of Georgia (@MargvelashviliG) February 8, 2018
The President also noted that in recent years, Athens has been "a strong supporter" of Georgia's EU and NATO aspirations, as well as its territorial integrity. "In all international formats and global forums Greece has taken positions that are extremely important and valuable for Georgia," said President Giorgi Margvelashvili.

The sides also spoke on the security environment in the Black Sea region, and discussed the two countries' cooperation prospects in the fields of energy, transit and infrastructure, with President Margvelashvili's press office reporting that the Greek side "highlighted the role of Georgia in connecting Europe and Asia."

As part of his visit to Greece, President Giorgi Margvelashvili also held meetings with Prime Minister Alexis Tsipras, Parliament Speaker Nikos Voutsis, and Kiriakos Mitsotakis, leader of the main opposition New Democracy party. He also delivered a lecture at the National and Kapodistrian University of Athens.