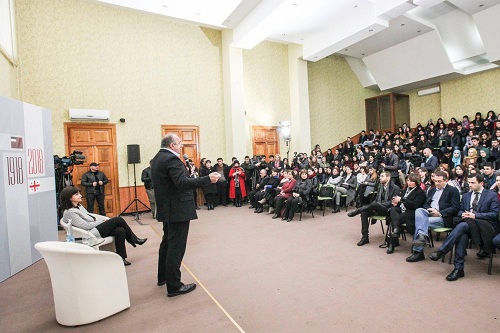 President Giorgi Margvelashvili addressing students at Telavi State University, February 20, 2018. Photo: president.gov.ge
Georgian President Giorgi Margvelashvili has launched a nationwide public campaign to engage the youth in the May 26 celebrations of the centennial anniversary of restoration of Georgia's statehood.

The campaign, dubbed "From Independence to Freedom - Centennial of the Republic," was inaugurated on February 20 with President Margvelashvili's public meeting at Telavi State University in Kakheti region.

"We have an important date to celebrate this year; 2018 marks the centennial anniversary of our Republic, and it is of utmost importance that the journey that our ancestors embarked upon and that we carry on today, continues in the future as well," Margvelashvili told the students yesterday.

"Our ancestors have established a very progressive state [in 1918] … which was based on the core values and principles that were still debated in Europe at the time, including women's suffrage," he also noted.

President Margvelashvili then emphasized that the primary purpose of the Georgian state "should be not only to retain its independence, but to translate its independence into freedom." "When you are independent you are independent from someone, but when you are free you are free for something," Margvelashvili quipped.

The President also invited the students to engage in the anniversary celebrations, and announced a call for student essays on the centennial of the Republic.

The public campaign, which involves photo exhibitions depicting the country's history from 1918, will run until May 26 and will reach a number of towns across the country.

The Democratic Republic of Georgia, proclaimed on May 26, 1918, appeared to be short-lived as the Bolshevik Red Army invaded the country in 1921. Georgia restored its independence on April 9, 1991.