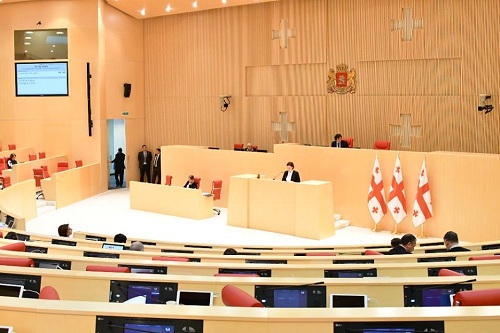 Parliament of Georgia, February 21, 2018. Photo: parliament.ge
The Parliament of Georgia overturned on February 21 presidential objections to the Law on Broadcasting, and approved the ruling party-proposed version of the amendments bill.

The new regulations, which grant the state-funded Georgian Public Broadcaster more freedom in earmarking budgetary funds, and enable it to receive additional revenues from commercial advertising, has attracted strong criticism from civil society organizations, private television stations and President Giorgi Margvelashvili.

Opposition MPs echoed these concerns at yesterday's plenary session, with MP Roman Gotsiridze of the United National Movement saying it was unacceptable to increase GPB's budget at the expense of private television stations, and with MP Sergo Ratiani of the European Georgia saying the amendments would promote corruption in the broadcaster.

MP Irma Inashvili of the Alliance of Patriots slammed the bill as well, stating that it "disrupts the balance on the advertising market, violates the terms of competition, strengthens dictatorship, and deprives other channels of the opportunity to develop."

Parliament Chairman Irakli Kobakhidze dismissed the opposition concerns, stressing that the amendments bill would "enable the public broadcaster to develop, and [help it] return positive results from the zero social effect that it has today." "We will be observing the media market for the coming 1-1.5 years, and if we identify problems for private broadcasters, we will introduce legislative amendments again," Kobakhidze noted.

The legislative bill, approved by the Parliament last December, was vetoed by President Giorgi Margvelashvili on January 15.

The President argued in his objections that GPB's entry into the advertising market would "further complicate" the financial state of private television channels, particularly the regional ones, which would have "adverse effects" on media pluralism in the country.

The amendments met opposition within the ruling party as well, with some Georgian Dream lawmakers speaking publicly against the amendments bill.