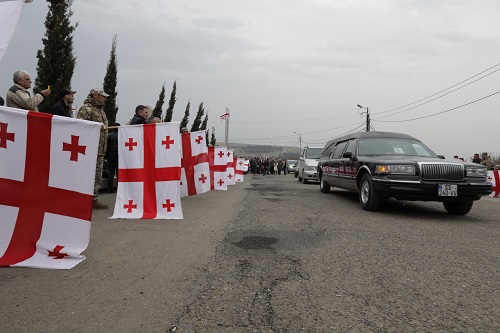 Tatunashvili Laid to Rest with Full Military Honors, 24 March, 2018. Photo: Eana Korbezashvili/Civil.ge

Archil Tatunashvili, a thirty-five-year-old Georgian citizen, who died at the hands of the Russian-backed authorities in Tskhinvali on February 22, was laid to rest at Mukhatgverdi military cemetery in the outskirts of Tbilisi.

Initially, the man was to be buried at a civilian graveyard, but plans changed in favor of a military cemetery, apparently upon request of his family. Tatunashvili had served in the army in 2007-2011, according to the Defense Ministry.

Archil Tatunashvili, whose body was transferred to the Georgian authorities on March 20, twenty-six days after his death in Tskhinvali custody, was delivered to his family in Tsilkani settlement of internally displaced persons from Tskhinvali Region/South Ossetia early morning on March 21.

Since then, hundreds of citizens have honored the memory of Archil Tatunashvili, including the family of late Giga Otkhozoria, who was killed in the area adjacent to Abkhazia in May 2016.

Early morning on March 24, Tatunashvili's body was transported to St. George's church in Tserovani, a nearby IDP settlement, where hundreds more bid their final farewells to Tatunashvili.

Tatunashvili's remains were then transported to Mukhatgverdi cemetery, which commemorates the Georgian soldiers fallen in the Russo-Georgian War of 2008, where he was buried with full military honors.
Background

Archil Tatunashvili, native of Akhalgori Municipality in Tskhinvali Region/South Ossetia, lived in Georgia proper, but crossed into the area periodically, where he was reportedly selling fruit and vegetables purchased in Georgia proper.*

Tatunashvili was apprehended on February 22 in Akhalgori, with local authorities accusing him of "genocide against South Ossetians," ties with the Georgian security agencies, and "preparing new acts of sabotage on the territory of the republic shortly before the election of the President of Russian Federation."

A day later, Tskhinvali authorities reported that during his transfer to a detention cell after being questioned, Tatunashvili fought back and "sustained injuries, was knocked down and rolled down the stairs," after which he was taken to hospital, where he died of heart failure.

Reports that Tatunashvili was tortured to death emerged shortly after his death, with Public Defender Nino Lomjaria saying the man was already dead when he was taken to hospital.

Irakli Toidze, a forensic expert, who attended the examination at the National Forensics Bureau in Tbilisi, said Archil Tatunashvili's body had "multiple [blunt] injuries, scratches and bruises almost all over the body," pointing at the likelihood that he was tortured.

* Many Akhalgori residents pursue the commercial activity, since agricultural produce in Georgia proper is much cheaper than in Tskhinvali Region/South Ossetia.