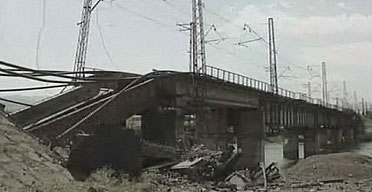 Officials vowed to restore the bridge in less than two weeks. Photo: a screenshot from BBC World.
Russian troops placed explosives and blown up a major railway bridge close to town of Kaspi, which was linking east of the country with the west, the Georgian officials claimed on August 16.
The Georgian television showed footage of destroyed bridge.

Town of Kaspi is in the east of Gori on the road between Tbilisi and Gori. It is about 60 kilometers away from Tbilisi.
Anatoly Nogovitsyn, deputy chief of the general staff of the Russian armed forces, however, said when asked about the explosion of the bridge: "That's impossible."
"Why do we need to blow up the bridges?" Interfax quoted him as saying on August 16. "We do not need; it is us who will have to then restore them."

"The Russian occupational forces have blown up the bridge is Kaspi, which is a civilian installation and which has nothing to do with the military one," Temur Iakobashvili, the Georgian state minister for reintegration, told journalists on August 16.