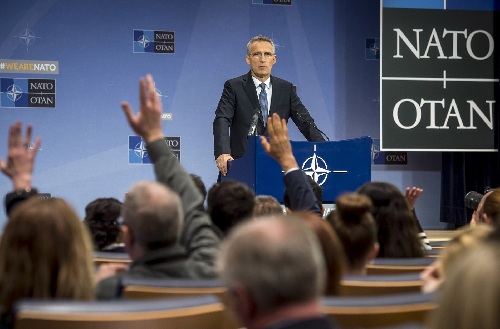 NATO Secretary General Jens Stoltenberg, April 26, 2018. Photo: nato.int
NATO Secretary General Jens Stoltenberg previewed the April 27 meeting of NATO Foreign Ministers at a press conference today, speaking among others on NATO's relations with Georgia.
Responding to the question of Georgian weekly Kviris Palitra newspaper, Stoltenberg said Georgia was NATO's "very close partner," and that the Alliance continued providing "practical and political support" to Georgia.
"We welcome that Georgia is making progress towards [NATO] membership, and I am certain that the summit will recognize this progress," Stoltenberg noted, adding that the Alliance operated "many different tools" for strengthening the partnership, including through the Joint Training and Evaluation Center (JTEC).
The Secretary General then noted that the Alliance "strongly appreciated" Georgia's contribution to NATO missions and operations. "So, this is not only NATO providing support to Georgia, but also Georgia providing a lot of support to NATO," Jens Stoltenberg said.