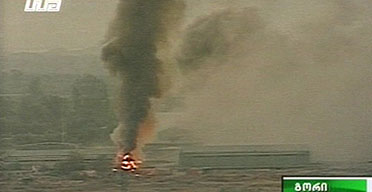 Huge plumes of smoke and fire are seen on this screenshot from Georgian public TV footage, rising into the sky from the military base in Gori in the evening on August 22. A powerful explosion rocked the area shortly after Russian troops left Gori.
Georgian police moved into Gori shortly after Russian troops pulled out of the town late on August 22.
Vano Merabishvili, the Georgian interior minister, told journalists in Gori late last night that Georgian law enforcement agencies were in control of the key east-west highway, but called on the population not to use it. He said law enforcers first needed to check all bridges and strategic installations along the road and in the town of Gori to verify that there were no mines left.
Gigi Ugulava, the mayor of Tbilisi, told journalists in Gori late last night that the authorities would arrange "an organized return" of tens of thousands of displaced persons to Gori.
The closest Russian checkpoint remaining in the vicinity of Gori is located in the village of Karaleti, just five kilometers from the town.