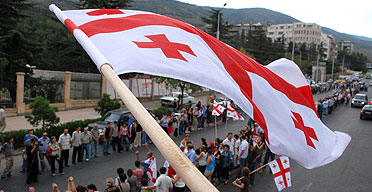 Officials estimated that over a million people took part in the event. See other photos. Photo: InterPressNews
Georgia stopped "the 21st century hordes" at the gates of Tbilisi and Georgia will be the graveyard of Russian imperialism, President Saakashvili told thousands of people gathered at the capital city's main square on September 1.
Officials estimated that over a million people were on the streets of Tbilisi and other towns and cities throughout Georgia to form a live human chain. Under the banner "Stop Russia," the event was meant to symbolize the unity of the Georgian people in the face of continued Russian occupation.
"When the 21st century hordes approached Georgia, Georgia stood as one; Georgia fought and Georgia will continue its struggle; Georgia has become united," Saakashvili said, speaking over a loudspeaker from a small balcony on the Tbilisi city council building on Freedom Square.
Saakashvili used to address thousands of supporters from the same spot during the Rose Revolution in 2003.
"This brutal force, these hordes that entered Georgia, decided to launch a revival of Russian imperialism," Saakashvili said in a truculent speech. "Not only did Russian imperialism fail to prevail in Georgia, but the very idea of Russian imperialism will be buried once and for all in Georgia; the empire will not be revived; Georgia will resist this."
He said that Georgia's struggle was about "good and evil, between David and Goliath." He, however, also added that Georgia was "not an enemy of the Russian people."
Saakashvili announced September 1 as the Day of Georgia's Unity, "the day when Georgia stood together as one as never before."
"I want to tell Europe: look at this huge number of people; now is the time when Europe has to extend its hand to Georgia," he said.
The human chain event in Georgia coincided with the EU emergency summit in Brussels.
After playing the Georgian national anthem several times on Freedom Square, the EU anthem, Beethoven's Ode to Joy, was also played over loudspeakers.
"We are a perfect example of the co-existence of various ethnic and religious groups; a unique example of good relations with our neighbors and peace," Saakashvili said. "As long as there is even a single occupier in either Abkhazia or South Ossetia, Georgia will not cease its resistance and it will never give in."