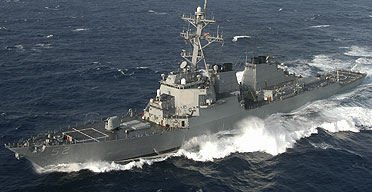 USS Barry DDG 52 photo from U.S. navy website.

USS Barry (DDG 52)
, a guided missile destroyer, will arrive in Batumi on November 22, the U.S. embassy said.
After spending four days in Batumi, the warship will then make a similar port call in Poti on November 26.
USS Barry has already made a port call in Batumi a month ago.
Unlike three previous U.S. warships, which delivered humanitarian aid to Georgia in August and early September, USS Barry carries no humanitarian aid and its arrival in the Georgian ports has been dubbed by officials in Tbilisi as "a routine, friendly visit."