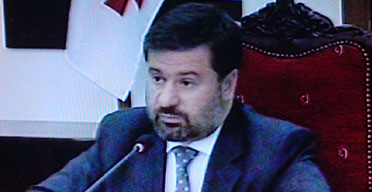 TV screenshot of Erosi Kitsmarishvili testifying before the commission on November 25.
A testimony by Erosi Kitsmarishvili, Georgia's former ambassador to Russia and President Saakashvili's former insider, before the parliamentary commission studying the August war, was thwarted after a verbal brawl between Kitsmarishvili and commission member, MP Givi Targamadze.
The hearing, which was aired live by the public TV's second channel and lasted over three hours, was often marred by a verbal sparring between Kitsmarishvili and the commission members, mainly those from the ruling party. The hearings were often growing into political debates between the former ambassador, who in late September lashed out at former allies accusing the authorities for a failure to avert the August war, and the commission members.
The most heated exchange came between Kitsmarishvili and Givi Targamadze, a senior lawmaker from the ruling party; during this exchange of barbs, MP Targamadze was seen in the live televised pictures throwing a pen into the direction of Kitsmarishvili. Just before this Kitsmarishvili was telling something to Targamadze, but his microphone was turned off and it was not possible to hear what he said. Later Targamadze, who apologized before the commission members, said he could not tolerate the word – scoundrel, which, he said, Kitsmarishvili told him.
After the incident Kitsmarishvili walked out of the commission session and the hearings ended.

During his enter testimony, Kitsmarishvili was adhering to the line voiced by him in his earlier interviews arguing that it was possible to avert the August war and accusing the Georgian leadership for not taking enough efforts to normalize ties with Moscow. In a response the commission members, mainly those from the ruling party, were suggesting in their remarks that Kitsmarishvili was trying to portray Russia as an innocent side into conflict. Kitsmarishvili in a response said it was misrepresentation of his remarks and an attempt to resort to the tactics of, as he put it, "spy-mania." This exchange eventually grew into brawl.

Some minor tensions started to emerge from the very start of the hearings, when Kitsmarishvili started his account from the events taking place back in 2004. The commission chairman, MP Paata Davitaia, however, requested Kitsmarishvili to focus mainly on the period during which he held the post of ambassador to Russia between April, 2008 (when he was appointed as the ambassador) and July, 2008 when he was recalled from Moscow after Russia admitted its warplane violated Georgia's airspace. Kitsmarishvili, however, insisted that he wanted to make broad overview starting from 2004 because, he said, at that time he was a close ally to Saakashvili and an insider in his administration.

Below are the key points of the hearings:
In February 2004 in a capacity of the Georgian President's special envoy I was sent to Moscow to organize the first meeting between President Saakashvili and then Russian President Vladimir Putin; I had a verbal authorization to prepare that meeting from President Saakashvili;
The key importance of that meeting was the fact that a very positive mutual confidence emerged between Putin and Saakashvili; we were telling Russians that we wanted to put a new dynamic into the bilateral relations and the starting point was very good in that respect;
The first thing Russians told us was that they were starting relations with the new authorities in Tbilisi with an empty paper, because it was totally new government, which came into power through the peaceful revolution; so Russians were telling us that they wanted to build formats for resolving those problems, which existed between the two countries for years;
During the Adjara events, Russia again tried to negotiate on some old problems, but no step has been taken by us;
Kitsmarishvili was then asked by MP Goka Gabashvili of the ruling party to specify what he meant by that. MP Givi Targamadze backed the question and said the commission members wanted more details in order not to remain "only on the level of rhetoric."
Kitsmarishvili responded: during the meeting between Putin and Saakashvili in Moscow in February, 2004 – and I know it based on accounts by Saakashvili himself, as well as by Irakli Okruashvili [then General Prosecutor of Georgia] who also attended that meeting – Putin said that he was not ready for talks on the Abkhaz issues, but he was ready to launch talks over resolution of the South Ossetian problem;
After those agreements with Putin – which were considered as very successful - Russia expressed irritation about Tbilisi over the developments in Adjara [reference to a peaceful ouster of then Adjarian leader Aslan Abashidze in May, 2004], because during that crisis, Russia was trying to have a type of a platform based on which it would have a chance for a trade-off with Tbilisi over the issues, which I have mentioned above [apparently referring to the issues of the conflict resolution]; but we have not initiated any dialogue with them;
After the Adjara events, when the central authorities established full control over that region, we started to activate the South Ossetian direction – Vano Merabishvili [then Secretary of the Georgian National Council, who month after the Adjara events became the Security Minister]; Zurab Adeishvili [then General Prosecutor] and Irakli Okruashvili [who after a month from the Adjara events became the Interior Minister] were most actively engaged in the issues related with South Ossetia;
Irakli Okruashvili was especially active in this regard and he was engaged in direct talks with Eduard Kokoity, the South Ossetian leader; these talks were held in informal formats; they were even hunting together;
I know this because I was participating in the discussions of the results of these activities; these discussions were taking place mainly in the so called presidential special residence in Shavnabada, outside Tbilisi;
Okruashvili was saying at that time that he had reached an agreement with Kokoity and the latter was ready to launch talks with Tbilisi over power transition in Tskhinvali in exchange for several millions;
But an incident took place between Okruashvili and Kokoity [Kitsmarishvili did not specify] and escalation started to raise in the region; a special operation was then carried out in South Ossetia, which was led by Okruashvili; on that day Okruashvili announced [on August 19, 2004] that [the Georgian troops] killed eight Cossacks fighting on the South Ossetian side. But eventually it turned out that only one person was killed.
On the evening of the same day President Saakashvili, Vano Merabishvili, Irakli Okruashvili, Zurab Adeishvili, Irakli Chubinishvili [then head of the President's administration], Gogi Tatukhashvili [commander of then Interior Troops] gathered in the Shavnabada residence; I was also present; then PM Zurab Zhvania was not there at that moment, he was in the government's administration in his office;
During that meeting, President Saakashvili asked the question whether to launch a military assault on Tskhinvali or not? Vano Merabishvili, Irakli Chubinishvili and Zurab Adeishvili were against of launch of this operation; then we asked Gogi Tatukhashvili whether there were enough capabilities to secure control over the region in a next few days in case of the military operation; Tatukhashvili failed to give us a positive answer on that question;
We were very close to taking a decision in favor of the operation, because Okruashvili, who was in favor of the military operation, was at that time very close associate to President Saakashvili;
After that President Saakashvili goes to the government's administration and meets with PM Zhvania – I know this based on the accounts of Zurab Zhvania and Irakli Chubinishvili; Zhvania was categorically against of the war;
After a categorical opposition from the side of Zhvania and also after a phone conversation with one of the foreign capitals – who warned against of any military operation – a decision was made against of this military operation and the war was averted;
By those events of July-August in South Ossetia we have closed road towards those peaceful mechanism which emerged in February; I repeat that a chance for a rapid resolution of the South Ossetian conflict emerged after the meeting between Saakashvili and Putin in February;
Russia was trying to start negotiating with us over a possible deal: South Ossetia in exchange for something – but it was not considered by us; I do not know what this 'something' could have been;
In June, 2008 when I was an ambassador I had a meeting with the Russian Foreign Ministry's special envoys - with Yuri Popov and Valery Kenyakin and the latter told us that there were good chances for the South Ossetian conflict resolution in late 2004 and early 2005, but these chances disappeared after the death of Zurab Zhvania;
From autumn, 2004 I suspended my ties with the Georgian authorities and possess no information about further developments; although I was following developments and everyone is aware of the aggressive rhetoric, which the Georgian authorities used in direction of Russia and its leadership;
I received a proposal to become Georgia's ambassador to Russia on November 2, 2007 from Vano Merabishvili, the Interior Minister;
President Saakashvili personally offered me to take this post on January 11, 2008 [Saakashvili was re-elected as the president in the January 5 election]; I was a PR manager of Saakashvili's election campaign;
When the President offered me to take that post I had an impression that Saakashvili sincerely wanted to improve ties with Russia, so I accepted to take that post;
I accompanied President Saakashvili to Moscow in February, when he met with then Russian President Putin;
On our way back from Moscow to Tbilisi, in a plane – I was there – President Saakashvili said, that in August he would relocate Georgia's capital from Tbilisi to Sokhumi, breakaway Abkhazia; Gela Bezhuashvili, chief of the intelligence service; Grigol Vashadze, the deputy foreign minister and Eka Sharashidze, the economy minister, were also present there;
At that point, the commission chairman, MP Davitaia, interrupted Kitsmarishvili and asked him whether the President meant a formal relocation of the capital's status, or he was referring to some kind of military operation. Kitsmarishvili responded that he assumed Saakashvili was meaning use of force;
In the second half of April, 2008, I have learnt from the President's inner circle that they have received a green light from the western partner to carry out a military operation;
When asked to specify "the western partner" Kitsmarishvili said: after a meeting with the U.S. President George W. Bush [the meeting between Bush and Saakashvili took place in Washington on March 19], our leadership was saying that they had the U.S. support to carry out the military operation;
In order to double-check this information, I have met with John Tefft, the U.S. ambassador in Tbilisi and asked him whether it was true or not; he categorically denied that;
Kitsmarishvili was then pressed by commission members from the ruling party to specify what he meant under "the leadership" and how he had learnt about that information. Kitsmarishvili responded: I can not reveal names of those people, who have told me about it because of their security;
After meeting with the U.S. ambassador, Kitsmarishvili continued, I went to meet with President Saakashvili; that meeting was attended by Davit Bakradze [who is now the parliamentary chairman] and Defense Minister, Davit Kezerashvili;
Kitsmarishvili was asked whether he raised at that meeting the issue of that alleged information about "the U.S. green light on military operation." Kitsmarishvili initially said that Bakradze rejected having any "green light;" but later, when pressed on the matter, the ex-ambassador said Bakradze "neither confirmed, nor denied it." Saakashvili, he continued, "agreed that such information existed, but he was interested who the source was and who told me about it;"
At that meeting I warned against any military operation and I asked the Defense Minister whether we had enough military capability ready for the operation, Kezerashvili responded to me: we will not have such a strong army, which we have now, in next four years;
The military operation should have been undertaken in direction of Abkhazia; military instructors from Israel were brought here in order to prepare that military operation;
Kezerashvili also said at that meeting that the operation should have started in early May, or at least before the snow melted on the mountain passes;
This decision was not materialized;
MP Givi Targamadze intervened at that point by saying: "An unfortunate tradition has been established, when after dismissal from the official posts, persons become eager to talk about the content of private conversations…" Kitsmarishvili interrupted MP Targamadze by addressing to the commission chairman and saying that these remarks by Targamadze had nothing common with the issue discussed at the hearing. But Targamadze responded: "You yourself are speaking about things which have nothing common with the issue discussed." He then continued by asking Kitsmarishvili why he agreed to take the post of the ambassador and why he did not speak out publicly if there was a threat to the country. Kitsmarishvili responded that he did not do that because he wanted to prevent it from within inside;
Kitsmarishvili then continued: we were receiving information at that time that Russians were preparing for a military operation in August in upper Kodori Gorge with an aim to expel Georgian forces for the gorge [which was the only part of breakaway Abkhazia under the Tbilisi control before the August war];
He was then asked who was planning the operation the Georgian side or the Russian side. Kitsmarishvili responded: both the Russian and Georgian authorities had plans for a military operation;
This military operation, he continued, was postponed by Russians upon the insistence of the Abkhaz side, because Sokhumi did not want to mar the summer tourist season;
The United States took some active steps in respect of Abkhazia and there was a visit by Mathew Bryza, the U.S. Deputy Assistant Secretary of State for European and Eurasian Affairs, in Sokhumi [on May 10, 2008];
It was then followed by a very important visit to Sokhumi by [Georgia's UN envoy] Irakli Alasania [on May 12]; a so called Alasania's document was elaborated;
This is a two-page document and the major content of this document involves signing an agreement on non-use of force. He was then asked to specify the details of the document. Kitsmarishvili responded that non-use of force issue was the major aspect of the document;
When asked what he personally thought about such a document and a pledge on non-use of force, taking into account the past experience of Russia always violating treaties, Kitsmarishvili responded, that his stance was positive towards this document, because on the one hand the United States were involved in the process and on the other hand Irakli Alasania was also engaged; he explained that Alasania was a person who enjoyed with respect and confidence among the Abkhaz side unlike many other Georgian officials; he also said that when on the one hand there was information that Russians were planning military operation in Kodori and on the other the Georgian side was also considering use of force, the proposed document on non-use of force would have been a positive step towards preventing escalation;
MP Givi Targamadze intervened at that point and said that working on that document had continued and it was discussed at a meeting with the Abkhaz side in Stockholm in mid-June, but the Abkhaz side, he said, had rejected all the Tbilisi's proposals at that meeting;
Kitsmarishvili, however, said in a response that the Abkhaz side did reject proposal because the Georgian delegation was mainly composed of so called hawks; [Alexandre Lomaia, the secretary of the National Security Council; Temur Iakobashvili, the state minister for reintegration; Nika Rurua, a lawmaker from the ruling party and Irakli Alasania were members of the Georgian delegation during the informal meeting in Sweden];
My efforts during my tenure as the ambassador were directed towards preparing a positive ground for possible dialogue with Moscow, as the new President in Russia was taking the post;
A team working on the Russian direction, which was led by then Deputy Foreign Minister Grigol Vashadze [who is now a minister for culture], believed that all the means at our disposals should have been used to build ties with Moscow; a visit of a group of leading Russian journalists in Georgia was organized; also during May-June there was no major anti-Russian rhetoric coming from Tbilisi;
I had an impression that part of the Russian society was ready for a dialogue with Tbilisi and for normalization of ties with Georgia; some influential political and economic experts were among them;
On June 19, 2008 I organized a meeting between Georgian and Russian scholars; the meeting was co-organized by Institute of Contemporary Development [a Russian think-tank, which advises President Medvedev]; the Russian President is the board member of this think-tank; Temur Iakobashvili, the Georgian state minister for reintegration also participated in that meeting, as well as Russia's former foreign minister, Igor Ivanov and Russian lawmaker Mikhail Margelov;
In early July I have received information from my sources in Moscow that Sergey Naryshkin, head of the Russian President's administration wanted to visit Georgia on July 17-19 under the formal reason to attend the Russian cultural days in Tbilisi. I immediately passed this information to Tbilisi and informed about it Grigol Vashadze, the deputy foreign minister, and later Zurab Adeishvili, who at that time was chief of the Georgian President's administration; chief of the Russian President's administration is a very influential figure in Russia; the major goal of his visit was to receive an official invitation by the Georgian side to organize a visit of the Russian President in Georgia;
I though that Mr. Naryshkin's desire to come into Georgia and prepare President Medvedev's visit was a good sign for possible dialogue, for launching new relations with Russia;
On July 10 President Saakashvili calls me – I want to stress that this phone call was not made on a secured line – and tells me: 'Is that someone – Naryshkin – really coming to Tbilisi?' I replied that yes he plans; Saakashvili then told me: 'OK, let him come, but tell Naryshkin that we have just met with Condoleezza Rice [in Tbilisi on July 10] and we are in a good situation now.' That is what he told me on a phone and it was not a secured line. About two hours after this phone call, the Russian Foreign Ministry posted on its website a statement – in which Moscow admitted that its jets violated the Georgian airspace;
Of course this visit by Naryshkin was thwarted; of course this visit could not have any results, because there was no readiness from the Georgian side as well for having any results;
On June 19 Iakobashvili said in my presence and also in presence of other Georgian participants of the meeting that was held in Moscow [referring to a meeting co-organized by Institute of Contemporary Development], including Zurab Abashidze, former Georgian ambassador to Russia and Davit Aprasidze [chairman of the Tbilisi-based think-tank Caucasian Institute for Peace, Democracy and Development], that the Georgian side was capable of taking over Tskhinvali in three hours; when I told him that Russia would respond, Iakobashvili said: 'Russians will not even move their fingers about it.'
I have also talked about that issue with Grigol Vashadze, the deputy foreign minister, in late July; I was very surprised that even Vashadze, who all these period starting from January, was adhering this so called peace line, said that we had capability to do that [regain control over Tskhinvali] in several hours;
After that, a person from Russia, sent by the Russian President, arrives in Georgia – it was not Naryshkin [Kitsmarishvili did not specify who that person was]; that official requested a meeting with President Saakashvili; the meeting was held in Batumi on July 21. So there were still some messages from Russia;
On August 5 I held a phone conversation with Saakashvili and requested him again to let me go back to Moscow; he downplayed that request;
On August 7, at 4pm I again had a phone conversation with Saakashvili; he told me that war was starting; I do not want to go further into details of that conversation;
I am absolutely sure that Russia was fully informed and fully ready for the launch of [hostilities]; they even had sent in advance senior television correspondents in Tskhinvali;
We have been dragged into this process and we have done exactly what Russians wanted us to do.
Commission members, including the chairman, pressed Kitsmarishvili on why he was not informing the Foreign Ministry about his activities in Moscow. The information notes sent by the embassy in Moscow to the Foreign Ministry in Tbilisi, the commission members said, mainly concerned issues of not having a crucial importance, like sports and cultural activities.
MP Paata Davitaia, the commission chairman, told Kitsmarishvili it constituted "a professional negligence" he would request the General Prosecutor's Office to probe into the matter.
After the hearings those commission members, who are from the ruling party, told reporters that they had listened from Kitsmarishvili a position similar to the one adhered by the Russian authorities, that as if Georgia started the war and was preparing for it for years.
Kitsmarishvili told reporters after the hearings that the commission "does not want to know the truth."
The commission with an official name Temporary Commission to Study Russia's Military Aggression and Other Actions Undertaken with the Aim to Infringe Georgia's Territorial Integrity, is expected to listen to the testimonies by Defense and Interior Ministers and then by President Saakashvili on November 28.