The new alliance said:
•
Early elections are needed;
•
Alasania would be a desirable leader;
•
Detailed action plan expected in January;
•
Cooperation with ex-PM Nogaideli ruled out;
•
Ties with Burjanadze possible, if she gives up presidential ambitions;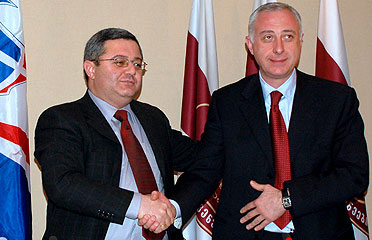 Davit Usupashvili (left) and Davit Gamkrelidze sealed partnership deal of thier respective parties. Photo: InterPressNews
Two opposition parties – the Republican and New Rights – announced on December 8 about setting up of an alliance with an ambition to create a viable "alternative force" to challenge the authorities.
"Our major goal will be to prepare ground, as soon as possible, for early elections and for peaceful change of the government," Davit Gamkrelidze, the leader of New Rights Party, said after signing of a memorandum with the Republican Party leader, Davit Usupashvili.
"After one month, this coalition will present to the society its platform, action plan and its leader, which will manage to unite the democratic forces in the country to secure change of the current government," David Usupashvili said.
The alliance, they said, would push for holding the both early parliamentary and presidential elections; but it will be a matter of tactic, they added, which should come first – something which seems to be a matter of discussion within the alliance.
That was one of the issue on which the two parties' views differed. A month after the August war, the New Rights Party was one of the first political groups, which demanded President Saakashvili's resignation and holding of the early presidential elections.
The Republican Party, however, was in favor of gradual changes, involving comprehensive reform of the election system and constitutional amendments, which would have eventually led to internationally-administered parliamentary – and not presidential - elections tentatively in spring, 2009.
"We agree that the government should be changed and which election should be held first, or they should be held simultaneously is a matter of tactic and a matter of further discussions and negotiations," Davit Usupashvili said on December 8.
Another key difference between the two parties involves form of government with the Republicans in favor of the parliamentary republic and the New Rights advocating constitutional monarchy.
Both of the parties, however, downplayed differences on the matter at this stage and said that their joint view was that a presidential system should be maintained in the country for at least next four years. But the current system of "strong president," they said, should be "balanced with a stronger parliament."
Along with its action plan, the new alliance expects that it will be able to name a leader of the bloc in January, 2009. There have been widespread speculations recently that Georgia's former UN envoy, Irakli Alasania, would possibly join the alliance.
Davit Usupashvili confirmed that the two parties had consultations with Irakli Alasania, but declined to go into details and said Alasania would himself speak about his future plans when he returns back to Tbilisi from New York this month.
"He [Alasania] really is a desirable partner in the alternative political force," Davit Gamkrelidze said, "and he has a resource to be the figure in today's and tomorrow's Georgia."
The leaders of the two parties said that the alliance would be open for cooperation with other opposition parties and would spend this month in consultations with them.
They, however, ruled out cooperation with a newly set up party of former Prime Minister, Zurab Nogaideli.
The alliance also said that it was ready to cooperate with former parliamentary chairperson Nino Burjanadze's party, but only under one pre-condition.
"Burjanadze should give up her presidential ambitions," Gamkrelidze said. "Mrs. Burjanadze can not imagine herself in other role except of a President. If she is able to overcome this ambition and if she is able to agree to support other presidential candidate, in that case, we think, that the cooperation will be possible with her."