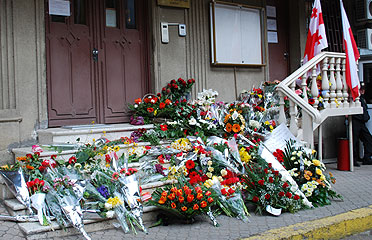 Polish embassy in Tbilisi, April 11. Photo: Civil.Ge



April 11 was declared a day of national mourning in Georgia to commemorate late Polish President Lech Kaczynski, his wife, top brass of the armed forces and a group of Polish leading politicians killed in a Saturday plane crash in western Russia.

A church service to remember victims of the plane crash was held in the Catholic Church in Tbilisi attended by several senior government officials ; people were bringing flowers at the Polish embassy and signing a book of condolences at a separate location in Youth Palace.

"Georgia lost the greatest friend in the international community, Poland and Europe lost the greatest politician," the Georgian president's administration in a statement.

"The President of Georgia lost his personal friend, who cared about Georgia permanently, a person who was in deep love with Georgia, was our country's supporter and an advisor."

Lech Kaczynski has been posthumously granted the Title of the National Hero of Georgia.