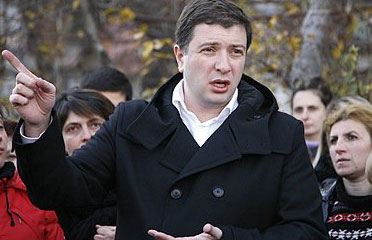 Gigi Ugulava. Photo: Ugulava's campaign website
Gigi Ugulava is Tbilisi's incumbent mayor and one of the influential figures within the President Saakashvili's administration.
He was nominated for re-election by the ruling party.

Ugulava, 34, is the mayor of the capital city since July, 2005, when he was appointed on the post by President Saakashvili. After the October 2006 local elections, Ugulava was elected on the mayor's position by the Tbilisi City Council.
Before becoming the mayor, in a period between December, 2003- July, 2005 he served on various senior government positions, including Deputy Justice Minister; Deputy Security Minister; Governor of Samegrelo region and chief of President's administration.
Before joining the government after the Rose Revolution, Ugulava, a graduate of Tbilisi State University's philosophy and sociology studies, worked for various civil society organizations and practiced journalism for couple of years.
It was Ugulava who was the first to signal about the authorities' readiness to introduce direct election of Tbilisi mayor. He made the announcement on April 4, few days before the opposition's planned street protest rally. The proposal was confirmed on April 10 by President Saakashvili and in July, 2009 he offered to hold early local elections on May 30 instead of late 2010, including direct election of Tbilisi mayor.
In following months, Ugulava has kept relatively low political profile - shunning away from making public political statements, but instead has been active in creating an image of an effective executive.
Ugulava launched his formal campaign for re-election on April 26 with slogan: "A Lot Remains to Be Done"; the focus of his campaign is resolving unemployment problem.
During the first couple of days of his formal campaign he put himself in the position of working class by appearing one day as a baker in one of the bakeries in Tbilisi suburb, then as a cleaner in a movie theater in downtown Tbilisi cleaning windows there; a butcher and seller of a meat in a market and also as a worker at a fuel station. He said he would better understand needs and problems of small enterprises by putting himself in their shoes.