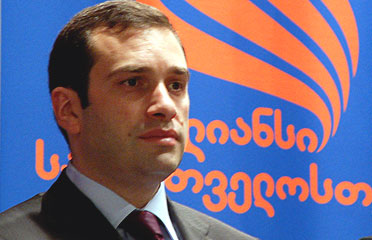 Irakli Alasania. Photo: InterPressNews
Irakli Alasania, 36, leader of a four-party Alliance for Georgia, was the first opposition figure to announce about intention to run for Tbilisi mayor in September, 2009.
He has a background of working in various state structures since mid-90s varying from security ministry to diplomatic post. He quit the position of Georgia's UN ambassador in December, 2008 and went into opposition.
Alasania runs the campaign with the slogan: "We Will Change".
He says that opposition's success in the local elections would trigger confidence among voters that "change of government through elections is possible" not only on local, but on national level as well and the May 30 should serve as a starting point for that "major change".
Like many other candidates, Alasania also makes focus in his election program on resolving unemployment problem. He has pledged to create at least 50,000 new jobs through setting up of a municipal fund to help with start-up and expansion of small and medium businesses. According to the scheme, presented by Alasania, the municipal fund with worth of total GEL 120 million will provide loans of up to GEL 20,000 with annual interest rate of 8% and with repayment period of 18 months.
According to the proposal, finances for the GEL 120 million fund will come from direct municipal funding – GEL 50 million, plus GEL 50 million through issuing long-term treasury bills and GEL 20 million from donor funding.
In healthcare program, Alasania has pledged to increase funding of the sector in Tbilisi from GEL 33 million to GEL 117 million. He has promised medicines for children up to 3 years old and for Tbilisi residents over 65 years old free of charge with limit of GEL 100. He claims it's possible through creation of chain of municipal drug stores, which will provide medicines with discount price.