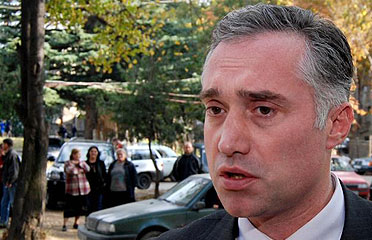 Zviad Dzidziguri. Photo: InterPressNews
Zviad Dzidziguri, 45, is a mayoral candidate nominated by National Council, a coalition uniting Conservative Party to which Dzidziguri is a leader, as well as Party of People and Movement for Fair Georgia, party led by ex-PM Zurab Nogaideli.
Dzidziguri is in the Georgian politics for over 20 years already. Under Georgia's first president Zviad Gamsakhurdia's administration he was a local governor of Samtredia, town in western Georgian region of Samegrelo in 1991. Dzidziguri remained Gamsakhurdia's loyalist after the latter's ouster in early January, 1992 and acted as Gamsakhurdia's envoy for Samegrelo region in exile. Dzidziguri was arrested in 1995 and spend five years in prison before being released as part of a mass pre-term release of those considered as political prisoners.
After the release he established a political party and in 2002 became an ally to then opposition leader Mikheil Saakashvili's National Movement Party. He participated in the Rose Revolution and was elected in the Parliament on a joint ticket with the National Movement in 2004. Dzidziguri, however, split with Saakashvili same year and went into opposition.
Dzidziguri's Conservative Party, together with Party of People, allied with ex-PM Zurab Nogaideli's Movement for Fair Georgia late last year, which eventually transformed into an election bloc, National Council.
Dzidziguri runs the campaign under the slogan "Struggle Today" saying that political stakes are much high in this local elections then only Tbilisi mayoral post, suggesting that May 30 election should become a decisive stage for struggle against President Saakashvili.