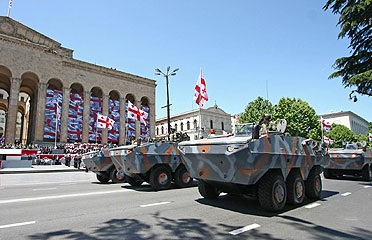 Georgia was the launch customer for the Turkish Nurol Makina Ve Sanayi's Ejder armored wheeled vehicles, which marched on the parade on May 26. Photo: InterPressNews
Over 4,300 Georgian servicemen and dozens of military hardware marched on Tbilisi's main avenue outside the Parliament on May 26 in a military parade.
The parade, which marked the country's Independence Day, was described by President Saakashvili as "a heartbeat of the Georgian statehood".

The parade also featured Turkish-produced Ejder armored wheeled vehicle, purchased by Georgia last year, as well as U.S.-made light armored vehicles Humvee and Turkish Cobra; Russian-made BTR-80 armoured personnel carriers, as well as RM-70 and GRADLAR multiple rocket launchers, DANA self-propelled howitzer, Msta-B towed 152 mm howitzers. The parade was wrapped up by over flight of UH-1 Iroquois, Mi-24, Mi-8 helicopters and Su-25 (Frogfoot) ground attack aircraft.
"Critics, who are irritated while looking at these Georgian soldiers marching at the parade, and who, unfortunately, obstructed to hold the parade last year, claim that what is happening on the Rustaveli Avenue today [reference to military parade] is nothing but saber-rattling and just our whim," President Saakashvili said in his speech outside the Parliament before the launch of the parade.
"Listen to the sound of marching Georgian army and military hardware. This is not the sound of saber-rattling, my friends; this is the sound of heartbeat of the Georgian statehood. No matter how hard the enemy tries to stop this heartbeat, it will never manage to do it.
Tradition of marking the Independence Day with military parade was restored in 2004 after about eight-year pause. Since then parades were held on each Independence Day on May 26, but last year was an exception.
Last year the authorities dropped the plans to hold the parade amid opposition's protest rallies, which were ongoing at the time. On the other hand, situation in the army itself could also be the reason of refusal to hold the parade. When a commander of the tank battalion, based in Mukhrovani, outside Tbilisi, announced disobedience on May 5, 2009, he cited his protest against the parade as a reason behind the disobedience, saying such event was inappropriate after the August war.