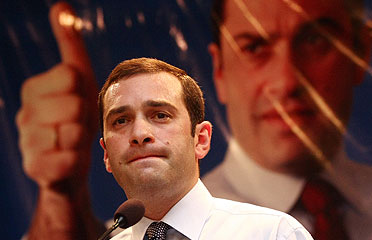 Irakli Alasania at a meeting with supporters on May 31 with his campaign banner on the background. Photo: InterPressNews
In what appeared to be a concession speech, Irakli Alasania, leader of Alliance for Georgia told his party activists on May 31, that Sunday's elections were valid and the new target now should be 2012 parliamentary elections.
"Despite significant shortcomings, which we have observed, elections were valid; Tbilisi has made its choice," he told the supporters in his campaign headquarters.
With most of the votes in Tbilisi's mayoral race already counted, Alasania came second with about 19%, behind incumbent mayor Gigi Ugulava, who garnered about 55%.
"We have been defined by voters as one of the key political force," Alasania said. "With this support we continue our struggle to contribute democratic development of our country, to make electoral system more transparent."
"With the parliamentary elections [in 2012], we face the major test ahead of us. I call on our supporters to get united like a fist and get ready for the victory," he said.
After thanking his supporters, he also said that he respected the choice made by the Tbilisites.
He also said that election campaign was an important experience for him and his party, Our Georgia-Free Democrats, which he established last year.
"I want to express my sincere gratitude to all those citizens, who participated in the voting. We all, who participated in these elections, started to establish a new political thinking in our country; we launched those changes, which will definitely lead us to construction of a democratic state," Alasania said.
"All member parties of the Alliance [OGFD, Republican Party, New Rights Party and Georgia's Way], our supporters, all those citizens, who voted for us with their civil braveness, your votes make me feel that our joint struggle will continue up to the great success."
"We entered this struggle under conditions, when the authorities and the ruling party were using unprecedented administrative resources and huge financial resources ahead of the elections. But our people made us believe that we are the strongest, the most irreconcilable and, what is the most important, the independent political unity."
"So, we should value this result of the elections. Each vote which we received during these elections proves that our society is courageous, our society really demands changes and it wants to continue Georgia's democratic development together with us – the leading political force," he said.