Economy Minister replaced;
New chief of Presidents administration;
New Deputy Foreign Minister;
New Ministry for Youth and Sports proposed;
New Minister of Regional Development and Infrastructure;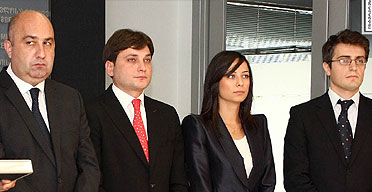 From left to right: Ramaz Nikolaishvili, nominee for minister for regional development; Lado Vardzelashvili, nominee for new ministry in charge of youth and sports; Vera Kobalia, nominee for economy minister and Tornike Gordadze, new deputy foreign minister in charge of EU relations. Photo: InterPressNews


President Saakashvili announced on June 25 about number staff changes in the government and his administration, as well as about proposed changes in the structure of the government resulting in establishment of a new ministry in charge of youth affairs and sports.

He explained the proposed changes with the need "of renewal staff, especially with young and professional cadre."

Saakashvili said that Minister for Regional Development and Infrastructure, Davit Tkeshelashvili, replaced head of his administration. Former head of the president's administration, Davit Janashia, will become chief of the state guard service, an agency in charge of providing security of senior officials and premises of state agencies.

A long-time journalist with Rustavi 2 TV, Irma Nadirashvili, who until recently was head of the television station's newsroom, was appointed as Tkeshelashvili's deputy in charge of communication with media.

Tkeshelashvili, who is a long-time ally of the President and member of ruling party, was replaced on the post of Minister for Regional Development and Infrastructure by Ramaz Nikolaishvili, who was head of the road infrastructure agency.

Economy Minister, Zurab Pololikashvili, was replaced by Vera Kobalia, a newcomer in the government.

Vera Kobalia, who will turn 29 this August, has lived in Canada until recently, where her family, displaced from Abkhazia as a result of armed conflict in early 90s, emigrated fifteen years ago.

Until late last year Kobalia worked for Vancouver-based European Breads Bakery, established by her father in 2001.

After return to Georgia she co-established Coalition for Justice, a non-governmental organization with a declared goal to protect rights of IDPs in Georgia and to increase international awareness about thier problems. The NGO and personally Kobalia have been gaining significant publicity recently.

Saakashvili also said that a young scholar, Tornike Gordadze, who has lived in France for over a decade, was appointed as new Deputy Foreign Minister in charge of European affairs.

Gordadze, who was a director of Caucasus Studies at the French Institute of Anatolian Studies, was described by Saakashvili as "a very prominent political scholar in Paris".

He said that Gordadze would be in charge of leading talks with Brussels on EU-Georgia Association Agreement, as well as on free trade treaty with the European Union. He said that talks on Association Agreement with EU would launch in mid-July, when a delegation from Brussels was expected to arrive in Tbilisi.

Saakashvili also said that Gordadze would be in charge of "the French direction of our foreign policy." With Gordadze's appointment the Foreign Minister will now have six deputies instead of previous five.

The President also said that as part of the government's structural changes, a department for youth and sports affairs would be separated from the Ministry for Culture, Sports and Protection of Monuments and would be established as a separate ministry. Governor of Shida Kartli region, Lado Vardzelashvili, will lead the new ministry.

In another structural change, the United Transport Administration will be separated from the Ministry for Regional Development and Infrastructure and will merge with the Ministry of Economy and the latter will be renamed into Ministry for Economy and Sustainable Development.

"As you can see the government is very stable. Practically, the changes occur much more rarely, than it was happening during the first presidential term," Saakashvili said and added, that cabinet members' performance was assessed based on their results. "If a person cannot achieve any results in particular direction, the one should be sent in charge of some other direction."

The changes in the cabinet, as well as proposed government's structural changes have yet to be approved by the Parliament, expected for next week.