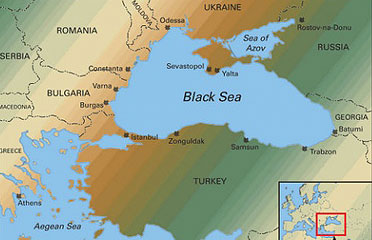 Tbilisi welcomed European Parliament's
resolution
passed on January 20 calling on the EU to draw up a strategy on the Black Sea region to define its "comprehensive approach" to address challenges in the area.
The resolution on an EU Strategy for the Black Sea, among other things, calls on the EU for "more direct engagement" and for taking "a leading role in the negotiations and peace-making processes".
In respect of Georgia, the resolution calls on EU's foreign policy chief Catherine Ashton "to step up efforts to encourage Russia to comply with the six-point Sarkozy Plan to stabilise and resolve the conflict in Georgia."
It says that "human rights violations are a daily occurrence in occupied South Ossetia and Abkhazia" and calls on the EU "to respond actively to all kinds of human rights violations in the Black Sea region."
In a statement released shortly after the resolution was passed, the Georgian Foreign Ministry said that it "highly appreciates the initiative to elaborate the Black Sea Strategy."
"It is noteworthy that the European Parliament referred to the Georgian regions as the 'occupied territories'," the Georgian Foreign Ministry said.
In respect of conflicts, the resolution, prepared based on a report by Romanian MEP Traian Ungureanu from the European People's Party, also calls on the EU to strengthen its monitoring systems and to develop an early-warning system as a conflict-prevention and confidence-building tool in the Black Sea region.
On energy security issues, the resolution stresses on the importance of the Southern Corridor and "the significance" of Liquefied Natural Gas (LNG) transportation to Europe in the form of the AGRI project.
AGRI - Azerbaijan, Georgia, Romania Interconnection - refers to the project, according to which Azerbaijani gas will be delivered via pipelines to a terminal in Kulevi on Georgia's Black Sea coast, where it will be liquefied. Tankers would then ship the liquefied gas to the Romanian Black Sea port of Constanţa and after regasification it will be transported via pipelines further into Europe.