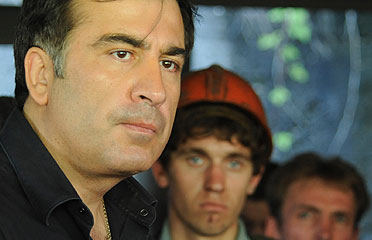 President Saakashvili with miners in Tkibuli on August 28, 2010 - next day after blast at the coal mine killed three miners (one died few days later in hospital). Photo: President's website.
President Saakashvili accused on January 22 owners of coal mine in Tkibuli, where a miner was killed last night as a result of explosion, of neglecting safety norms and of covering up real reasons behind similar incidents last year.
In televised comments made from Yerevan, where he pays a two-day working visit, Saakashvili expressed "regret" for not taking investigation into last year's explosions in Tkibuli coal mine "to its logical end."
Coal mine in Tkibuli in western region of Imereti is operated by Saknakhshiri, a daughter company of Georgian Industrial Group, a conglomerate founded by lawmaker from the ruling party, Davit Bezhuashvili - a brother of Gela Bezhuashvili, chief of the Georgian intelligence service.
A total of eight miners died as a result of two separate explosions in the same mine in
March
and
August
of 2010.
Saakashvili said that according to the initial conclusions he had heard shortly after the explosion overnight on January 22 "the miner, who died, was to be blamed" for the incident.
"We were given similar conclusions during the previous [incidents] and all the blame was put on miners," he continued.
"At the time the prosecutor's office [separately] investigated that case and as far as I know there are all evidence to suggest that previous explosion in which several miners were killed was a result not of their negligence, but of criminal wrongdoing by the coal mine's top management, which turned off ventilation system to save the money at the expense of the lives of employees."
He said that the conclusions into the reasons of the explosions last year were fabricated by "the owners of the business".
"I regret much that the criminal case [launched by the prosecutor's office] has not been taken to its logical end yet," Saakashvili said that added that if those responsible for previous explosions were punished, the January 22 incident could have been avoided.
He said that this recent explosion would be investigated by "serious people," including those invited from abroad, instead of those, "who are sitting in Tbilisi and taking money from the owners of the Tkibuli mine and therefore, they have no problems to write a lot of nonsense and lies [in the conclusion]."
Saakashvili also said that those responsible would be punished and "we will not let them to get away with it."
Next day after the explosion in Tkibuli mine on August 27, which killed four miners, President Saakashvili arrived at the scene and told a group of miners that ventilation systems were installed in the mine, but the problem was with absence of "discipline".
"Vano [Merabishvili, the interior minister, who was also in Tkibuli] found out that instructions on safety rules are not given to miners prior to entry into the mine," Saakashvili said. "Each miner should be asked before going into the mine: 'what are the safety rules?' and [miners] should repeat these rules like a mantra."