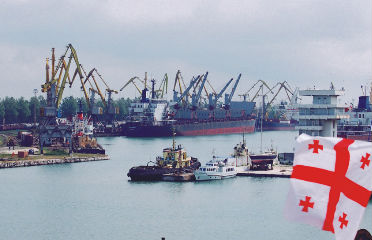 Photo from the Port of Poti's
website
.
The UAE emirate of Ras Al Khaimah's state-owned investment fund, RAKIA, is in talks with the Hague-based APM Terminals to sell 80% stake in Georgia's Black Sea port of Poti, Reuters reported on April 1, quoting unnamed senior Georgian government official.
APM Terminals is a business unit of the Danish conglomerate, A.P. Moller-Maersk Group.
The government source told Reuters that with its veto right over any deal the Georgian government was involved in talks, which might be concluded within coming days.
RAKIA declined to comment and APM Terminals declined to confirm or deny the report, according to Reuters.
RAKIA purchased controlling stake in port of Poti in April, 2008 for USD 90 million and launched development of free industrial zone on 300 hectares of land in Poti. Later in the same year RAKIA bought from the state remaining 49% of Poti port for USD 65 million.