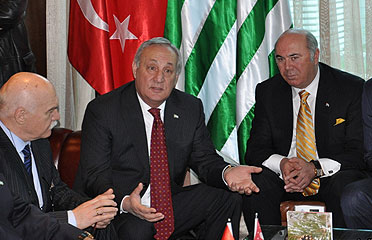 Sergey Bagapsh (center) at a meeting in Federation of Caucasian Associations (KAFFED) in Ankara on April 7. Photo taken from
KAFFED website
.
Abkhaz leader, Sergey Bagapsh, started a four-day visit to Turkey on April 7 to meet with Abkhaz diaspora and to discuss economic relations, a spokesman for the breakaway region's leader said.
The visit is held upon the invitation of the Ankara-based Federation of Caucasian Associations (KAFFED) and Federation of Abkhaz Association.
Bagapsh will also travel to Istanbul and Adapazarı, a city in northwestern Turkey.
According to the Abkhaz news agency, Apsnipress, Bagapsh is accompanied in Turkey by the breakaway region's foreign minister Maxim Gvinjia; economy minister Kristina Ozgan; president of national bank Ilarion Argun; MP Taali Khvatish; chairman of Abkhaz entrepreneurs association Leonid Osia and chairman of state commission on repatriation Zurab Adleiba.
Abkhaz diaspora in Turkey includes descendants of those tens of thousands of Muslim Abkhazians, who had to move to the then Ottoman empire, as part of a larger Muslim migration process from the Caucasus in the nineteenth century. The Abkhaz authorities have said for numerous times previously that repatriation of ethnic Abkhazians living in Turkey was among their priorities.
Sergey Bagapsh was first intending to visit Turkey in 2007; but the trip was canceled by Ankara.
Bagapsh visited Turkey more than ten years ago to meet with the Abkhaz diaspora when he served as the breakaway region's Prime Minister in 1999-2000.
In an interview with Russian news agency, RIA Novosti, in August 2010, Bagapsh said that Sokhumi did not expect recognition from Ankara in foreseeable future, but it wanted to have close economic relations with Turkey.
"[Sokhumi has] normal, good neighborly relations with Turkey. A large Abkhaz diaspora lives there. How they [relations] will develop – it's hard to predict for me, because I understand situation within Turkey itself; I do not foresee recognition of Abkhazia and South Ossetia by Turkey in the nearest future," Bagapsh said.
"We are in favor of good neighborly relations; it should be launched with economic [relations], movement of people, communication links should be opened between Abkhazia and Turkey. These processes can be launched," he added.