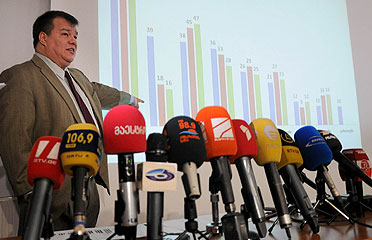 NDI-Georgia country director, Luis Navarro, presents some parts of public opinion survey results to journalists, not including political ratings, on April 6. Photo: InterPressNews
With the NDI-commissioned polls, involving ratings of political parties, remaining publicly unavailable, fragmented leaks of its results again triggered speculations and misinterpretations on April 8.
It is a policy of NDI Tbilisi office to make public only the part of its commissioned poll, which shows general public attitudes towards various domestic and foreign policy issues; but the segment of the poll dealing with ratings of political parties are never released publicly, although they are presented individually to each political party.
However, some political parties then leak some segments of those ratings to the media; but such fragmented leaked reports are very sketchy and are fraught with inaccuracies. As a result, such practice usually leads to speculations and controversies.
The same was with the recent polls prompting NDI-Georgia country director, Luis Navarro, to release a written statement on April 8 refuting some of the reports.
"As part of our survey research, National Democratic Institute (NDI) makes public its issue based polling and uses political party ratings for private consultations with parties," Navarro said in the statement. "As we have informed the parties, we reserve the right to refute any misrepresentations of our data."
"As reported today by Pirweli News Agency, the claim that our poll indicates UNM [ruling United National Movement party] would receive 'approximately 60% in proportional elections' is false. As reported today by Pirweli News Agency and InterPressNews, the claim that OGFD [opposition Our Georgia-Free Democrats party] would receive 35% of the vote in Parliamentary elections is false. All claims based on these representations of our data should be considered inaccurate," the statement reads.
According to most of the leaked reports the ruling party leads in ratings, followed by Christian-Democratic Movement.
Parliamentary Chairman, Davit Bakradze, said that the ruling party leads with "large margin" over other parties. Another senior lawmaker from the ruling party, Giorgi Gabashvili, said that similar to previous years, the ruling party had a high rating.
"It would have been better if NDI had released the party ratings publicly, in order to avoid rumors and speculations," MP Gabashvili said.