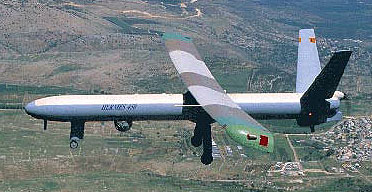 Hermes 450 reconnaissance drone manufactured by Elbit Systems.
Israeli defence electronics company Elbit Systems Ltd. said on April 8 that it had filed a lawsuit in the High Court of Justice of the United Kingdom against the Georgian government in an amount of about USD 100 million.

"The lawsuit was filed as a result of the [Georgian] government's failure to pay amounts due to the company in connection with deliverable items under several contracts signed in 2007," Elbit Systems said in a brief press release without providing further details.
Georgia purchased Hermes 450 reconnaissance drones from Elbit Systems. President Saakashvili said in April, 2008 that Georgia had about 40 such drones. At least three of them, although the Abkhaz side claimed seven, were shot down over the breakaway region in a period between March 18 and May 12.