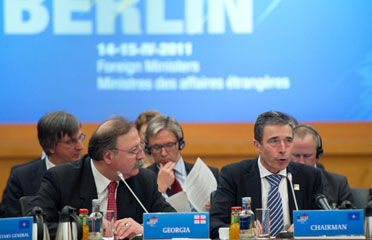 Georgian Foreign Minister Grigol Vashadze (left) and NATO Secretary General Anders Fogh Rasmussen at NATO-Georgia Commission meeting in Berlin, April 15. Photo: NATO website.
NATO-Georgia relations have "deepened significantly in recent years," NATO Secretary General, Anders Fogh Rasmussen, said in his opening remarks of the NATO-Georgia Commission (NGC) at the level of foreign ministers on April 15.
Rasmussen said at the meeting, which was held on the sideline of NATO foreign ministers' summit in Berlin, that deepening these relations "helped Georgia to play an increasingly important role as security contributor."

"NATO Ministers welcomed the overall positive dynamic in Georgia's democratic development," a joint statement released after NGC meeting.
"At the same time, they noted that work remains to be done for the Georgian Government to adopt and implement necessary reforms, and to cooperate with the opposition on implementing democratic reforms. NATO Ministers stressed the importance of electoral reform in view of the upcoming parliamentary elections in 2012. They also encouraged Georgia to continue to strengthen the rule of law and the role of civil society, as well as continue to deepen reforms regarding the judiciary and the media."
NATO foreign ministers also "encouraged further reforms in the defence and security sphere."
NATO ministers reaffirmed their support for Georgia's territorial integrity and sovereignty and also reiterated their "continued policy" of non-recognition of breakaway South Ossetia and Abkhazia.
The next meeting of NATO-Georgia Commission at the ambassadors' level will be held in Georgia in autumn 2011.