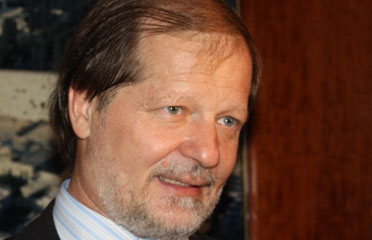 Israeli Ambassador to Georgia, Itzhak Gerberg, said his country has no intention of supplying weapons to Abkhazia.
Georgian Foreign Ministry said it had summoned Israeli ambassador in Tbilisi and had "a detailed discussion" over visit to breakaway Abkhazia by executives from the Israeli security consulting firm, Global CST, Nino Kalandadze, the Georgian deputy foreign minister, said on Monday.
"Both privately and in his public statement, the Ambassador unequivocally confirmed that Israel has no intention whatsoever to have any military cooperation with de facto [Abkhaz authorities]," Kalandadze said.
She said that the Israeli Ministry of Defense would not issue a license to any Israeli company on any type of military cooperation, including military trainings, with the breakaway region.
"This is an official position of Israel and we have no reason to suppose that it is not truth," Kalandadze said.
The Israeli Ambassador to Georgia, Itzhak Gerberg, said last week that his country has no intention of supplying weapons to Abkhazia. His statement followed a visit to the breakaway region by founder and owner of Israeli security consultancy firm, Global CST, Israel Ziv, who is a former head of operations at the Israeli General Staff. He was accompanied by Meir Klifi, CEO of Global CST, who was Israeli PM Binyamin Netanyahu's military aide until 2009.
According to Abkhaz sources, cooperation in the fields of security, tourism and agriculture were discussed between the executives from the Israeli firm and the breakaway region's leadership in Sokhumi.
Beyond security and defense consultancy and trainings, the Global CST also has a civil division offering strategies in various fields ranging from agriculture to communication and infrastructure.
The company was involved in trainings for Georgian troops before mid-2008.
Many commentators in Tbilisi suggested that this visit was part of recently deteriorating relations between Georgia and Israel originating from the arrest and conviction of two Israeli businessmen by Georgia over bribery charges.
Earlier this month Israeli defense electronics company Elbit Systems Ltd. said it was suing Georgia to collect about USD 100 million due under 2007 contracts with the Georgian government. Tbilisi has rejected having any financial liabilities to the Israeli company.