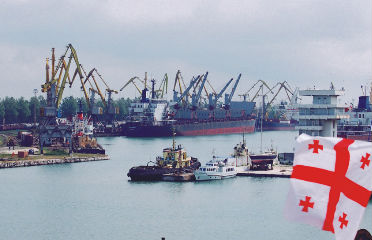 Photo from the Port of Poti's website.
APM Terminals announced on April 18 about acquisition of 80% of stakes in Georgia's Black Sea port of Poti from UAE's emirate of Ras Al Khaimah's state-owned investment fund RAKIA.
The Hague-based company said the deal, value of which was not disclosed, was part of its strategy of investing in high growth markets.
APM Terminals' senior vice president, Peder Sondergaard, said the company's intention was to invest USD 100 million over the next five years in upgrading and expanding the port facilities.

APM Terminals Poti will operate Poti Sea Port in a joint venture with RAKIA, which has retained 20% of stakes.
APM Terminals, with more than 50 ports and 122 inland facilities in 64 countries, is a business unit of the Danish conglomerate, A.P. Moller-Maersk Group.
"With fast economic growth, the region's importers and exporters will require high quality port infrastructure, and so naturally it is a market in which we have great interest," Sondergaard said.
RAKIA purchased controlling stake in port of Poti in April, 2008 for USD 90 million and launched development of free industrial zone on 300 hectares of land in Poti. Later in the same year RAKIA bought from the state remaining 49% of Poti port for USD 65 million. RAKIA will continue to manage Poti free industrial zone.