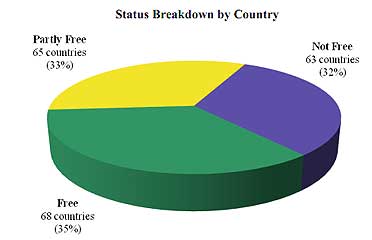 The Freedom House annual press freedom survey ranks countries under the categories of "Free"; "Partly Free" and "Not Free".
Georgia's ranking in an annual survey of global press freedom by Freedom House has improved, but the country still remains in the category of "partly free."
Each of the 196 countries and territories examined in the survey are assigned a rating between 0 and 100 with countries scoring from 0 to 30 are given status of having "Free" media; from 31 to 60 - "Partly Free" and 61 to 100 - "Not Free".
The survey released on May 2, which covers 2010, ranks Georgia 118th with rating of 55. Georgia's ranking in previous similar survey, covering 2009, was 126th with rating of 59.
The Freedom House attributed improvement in Georgia's standing in the recent survey to "improved political environment, that led to a reduction in legal and physical harassment of journalists, fewer instances of official censorship, and more balanced coverage by the public broadcaster."