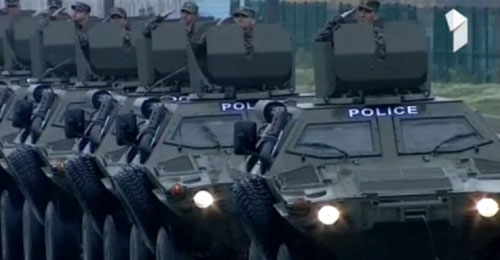 Screengrab from the Georgian public broadcaster showing Cobra light armored vehicles at the police force parade in Batumi, May 6.
First and foremost it is thanks to the Georgian police that it was possible to create "a solid foundation for the Georgian statehood," President Saakashvili said on May 6.
He was addressing a parade of police forces in Batumi, Adjara Autonomous Republic, marking the Day of Police, which coincides with the St. George's day and anniversary of peaceful revolution in Adjara, which led to ousting of the region's leader Aslan Abashidze in 2004.
"With your work and your existence you light up and expose warmth for Georgia and bring shining light for Georgia and for many countries in the region and, without exaggeration, for the entire world," Saakashvili told the policemen at the parade in presence of Interior Minister Vano Merabishvili.
He said that the police reform was the first major reform carried out by his government and a prerequisite for other reforms. Saakashvili said that the police reform was "the major symbol of our transformation and of our new statehood."
Saakashvili said that the police was the major target of "attacks" by those who wanted to return Georgia back to those days when the corruption thrived in the country.
"Because it [the police] embodies new Georgia and attacks are carried out against the Georgian statehood," he said, adding that the Georgian enemy "could not imagine, even in its worst nightmare" that Georgia would have withstood everything starting from economic embargo to military intervention "by the world's largest country."
Saakashvili said that function of the Georgian police "is much more then only protection of the public order."