The opposition Georgian Party reiterated on Wednesday that it would rally outside the U.S. embassy in Tbilisi on May 16 to protest against, what it calls, "the U.S. administration's support to the Saakashvili's regime."
"We believe, that Russia has seized our territories, but by this support [to Saakashvili], the U.S. administration is seizing our freedom, our sovereign right of free choice in our internal or other type of political affairs," Erosi Kitsmarishvili, one of the founders of the Georgian Party, said on May 11, echoing earlier remarks by co-leader of the party, ex-defense minister Irakli Okruashvili.
"I have lived under various political formations and neither I nor any other leader of the Georgian Party have any desire whatsoever that so called instructors from the Central Committee [of the Communist Party during the Soviet times] to be replaced by instructors from the [U.S.] Department of State," Kitsmarishvili said.
He was speaking at a news conference convened after some of the opposition parties slammed the Georgian Party for the planned protest rally and for Okruashvili's remarks in which he described the U.S. embassy as a source of "torrent, poisoning the Georgian society."
"This statement is directed not against the Georgian authorities, but against Georgia as a whole," Levan Berdzenishvili of the Republican Party said.
MP Giorgi Targamadze, the leader of Christian-Democratic Movement (CDM), slammed Okruashvili's remarks as unacceptable and said that such a stance would only contributed to strengthening of the authorities' position and on the other hand would help create a situation in which Russia might find benefit.
Nino Burjanadze, ex-parliamentary speaker and leader of Democratic Movement-United Georgia party said such statements only benefit to the authorities.
"This statement is part of Saakashvili's plan," she said. Burjanadze, who plans to launch street protest rallies from May 21 to force President Saakashvili resign, has a fierce confrontation with the Georgian Party.
"I've listened to various opposition parties' statements about the remarks made by Irakli Okruashvili," Kitsmarishvili said. "If someone wants to know what the people think, let them go and meet people… and asked them what they think about the U.S. administration's support to the Saakashvili's regime."
"We are a sovereign state and we demand that not a single country should be interfering in our internal political affairs."
Kitsmarishvili said that although the Georgian authorities were not following its democratic commitments, including undertaken under the U.S.-Georgia Strategic Charter, "despite the terror against business and people, the U.S. administration still continues financial support of the Saakashvili's regime."
"For that reason we think that expressing protest [outside the U.S. embassy] will be important on May 16," Kitsmarishvili said.
Protest rallies outside the U.S. embassy are rare in Georgia, but there have been several occasions in past few years when the opposition held such rallies to protest against, what they called, "the U.S. support to the Saakashvili's regime"; one such rally was held by Party of People in January, 2008, after the snap presidential elections and another one was held by a group of opposition parties ahead of a meeting between President Saakashvili and then U.S. President George W. Bush in March, 2008.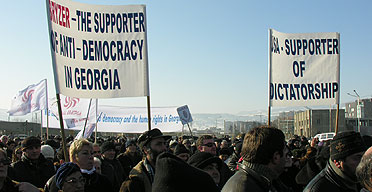 Protesters outside the U.S. embassy in Tbilisi, January 22, 2008. Photo: Guram Muradov/Civil.Ge
After the 2008 presidential elections many opposition politicians were often voicing criticism towards the Bush administration for, what they called, "helping Saakashvili to legitimize fraudulent elections". Mathew Bryza, who at the time was Department of State's point man for Caucasus and is now the U.S. ambassador to Azerbaijan, was a frequent target of criticism.
The opposition's rhetoric, however, changed since then with many opposition politicians saying that President Obama's administration is more inclined towards pressing the Georgian authorities on democratic reforms. Many opposition politicians have been praising the U.S. ambassador to Georgia, John Bass, who serves in Tbilisi since October, 2009, for, what they call, "adequately assessing" problems with democratic reforms.