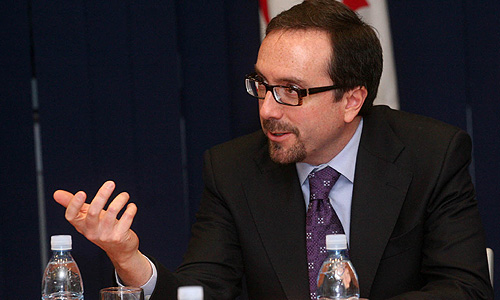 U.S. Ambassador, John Bass, February, 2011. Photo: InterPressNews
Freedom of assembly for peaceful protest is an important part of a vibrant democratic state, John Bass, the U.S. ambassador in Tbilisi, said when asked to comment on the opposition Georgian Party's plan to hold a rally outside the U.S. embassy on May 16.
"We strongly support everyone's ability to exercise those rights here in Georgia, irrespective of whether or not we happen to agree with their particular point of view," John Bass said, adding that there had been number of protest rallies in the past outside the U.S. embassy and "I'm sure" the rally planned for May 16 "won't be the last one."
He was speaking with journalists on a sideline of a presentation of USIAD's four year, USD 40.4 million program, Economic Prosperity Initiative, aimed at identifying sectors with most potential of sustained growth and enhancing their productivity and competitiveness.