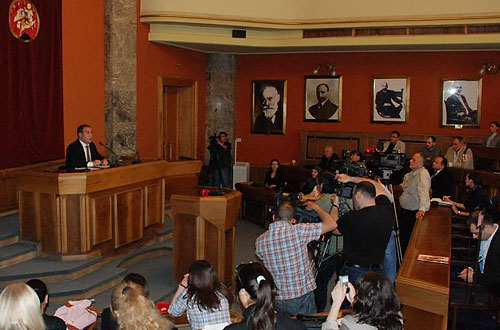 A hearing of the parliamentary committee on diaspora and Caucasian issues on May 13. Photo from the Parliament's website.
Discussions within the Parliament on recognizing 19th century massacre and deportations of Circassians by the Tsarist Russia in the northwest Caucasus as "genocide" progressed further after lawmakers listened to a report by a group of academics on May 13.
During the Caucasian War in 19th century "pre-planned and implemented cleansing" of territories settled by the Circassians resulted into "either death of expulsion of 90% of 1.5 million Circassians," reads a report, compiled by a group of academics based on archive materials.
"We clearly qualify these actions as genocide," says the report, presented to a parliamentary committee on diaspora and Caucasian issues by a professor of the Tbilisi State University, Merab Chukhua.
He said after the parliamentary committee hearing on May 13, that if Georgia recognizes 19 century deaths of Circassians as genocide "it will be a matter of great prestige for Georgia" and "an opportunity to restore justice."
The report was commissioned about a year ago, when the Georgian Parliament first announced about the intention to launch "broad discussions" on the matter.
Ruling party lawmaker, Nugzar Tsiklauri, who chairs the parliamentary committee for diaspora and Caucasus issues, said that the discussion of the issue was now moving into the phase of taking "a political decision." He said that the issue might be discussed by the Parliament during the current spring session. He said earlier that there were "a significant number of lawmakers who are in favor to positively decide this issue."
No nation has recognized the deaths of Circassians in the 19th century as genocide.
MP Tsiklauri told Civil.ge on May 13, that his committee was also working on the issue of "Chechens genocide" upon the appeals, which he said, were made by "organizations representing Chechen people".
He said that these two issues of Circassians and Chechens would not be discussed simultaneously, but "the Chechen issue is on the agenda."
"I can not say now a timeframe, but this issue will not be removed from our agenda," MP Tsiklauri told Civil.ge.