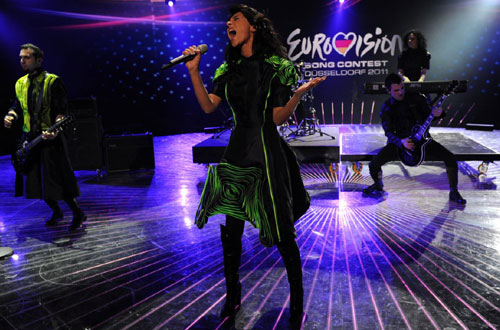 Georgian band, Eldrine, came in ninth among 25 finalists in the annual Eurovision song contest.
President Saakashvili said on Sunday that he had phoned his Azerbaijani counterpart, Ilham Aliyev, to congratulate on victory of Azerbaijan in Eurovision song contest.
"Well done. It really reflects what a long road Azerbaijan has gone through in recent years," Saakashvili told journalists on May 15.
"But I also want to say that in Eurovision, points are given based on attitudes that other countries have towards your country. Lithuania has always given us [the maximum] 12 points and we are always grateful for that, it is our brotherly nation [Georgia also gave its 12 points to Lithuania]. But yesterday, Belarus and Ukraine also gave us the highest scores and I want to specially thank them for that, because it really shows the warmth of their attitudes towards Georgia. We are developing relations in all sectors [with these countries]…These nations stood beside us when we needed it the most," Saakashvili said.
The Azerbaijani duo Ell-Nikki won the Eurovision song contest on May 14. Georgian band Eldrine came in ninth among 25 finalists in the annual song contest.