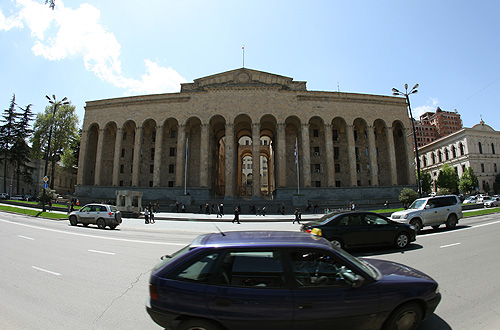 Parliament building in Tbilisi. Construction of the building was completed in 1953. Photo: Guram Muradov/Civil.ge
According to the draft of constitutional amendment presented to the Parliament for consideration the Georgian legislative body will be fully relocated from the capital Tbilisi to the country's second largest city of Kutaisi in western region of Imereti.
In September 2009 the Parliament passed constitutional amendment envisaging splitting of working venue of next Parliament to be elected in 2012 between Tbilisi and Kutaisi, located over 200 kilometers away from the capital. According to those amendments, the parliamentary sittings should be held in Kutaisi, while other activities, including parliamentary committee hearings should be held in the current parliamentary chamber in Tbilisi.
But according to the newly proposed constitutional amendment Kutaisi, where construction of the new Parliament building is underway, will become the only place where new the legislative body, elected in 2012, will be located.
Few months before the 2009 constitutional amendments, President Saakashvili said that he was not in favor to fully relocate Parliament to Kutaisi, but said he supported partial relocation.
Last week Saakashvili, however, said, while speaking at a business award ceremony, that Georgia would have three major centers – Tbilisi, which he described as "the capital of Caucasus"; Batumi – "economic-financial center of Georgia" and Kutaisi – "the parliamentary capital" of Georgia.
Recently some Georgian media sources speculated about the government's intentions to put the Parliament's current building in Tbilisi on sale, although no official announcement about the planned privatization has yet been made.