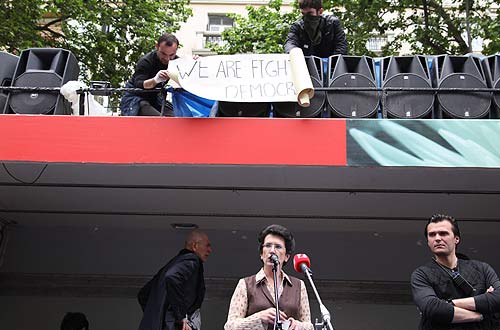 Nino Burjanadze addresses protesters outside the public broadcaster on May 22, as activists hang a banner on stage reading: "We fight for democracy". Photo: Guram Muradov/Civil.ge
Key figures behind the ongoing protest rally from the People's Assembly are holding talks with the Georgian Party leaders to agree on a joint action plan, protesters outside the public broadcaster's office on Kostava Street were told on May 22.
The Georgian Party, whose leaders were at odds with Nino Burjanadze, a key figure behind the ongoing rallies, joined the rally earlier on Sunday.
Protesters were told that the decisions taken as a result of the talks would be announced later.
The Georgian Party said earlier on Sunday that May 25 should become "a final day for the Saakashvili's regime" and one of its leader, Irakli Okruashvili, an exiled ex-defense minister, said he would return back to Georgia on May 25.
The Georgian Party's decision to join a campaign by the People's Assembly, to some extent gave a new momentum to the ongoing rally; but number of protesters gathered outside the Georgian Public Broadcaster was far few as of late afternoon, than it was on May 21 on the Freedom Square.