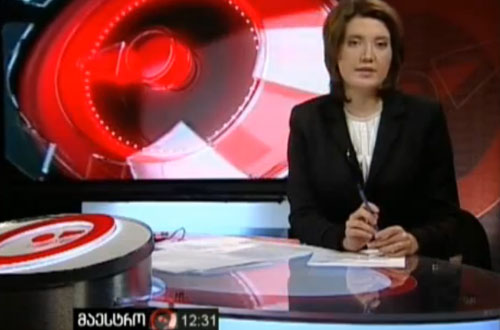 A screengrab of Maestro TV's news presenter during the Tbilisi-based television station's noon news bulletin on May 23.
Tbilisi-based Maestro TV said on May 23, that contrary to some opposition politicians' statements, it was not intending to in any form become part of the ongoing rally.
Nino Burjanadze, ex-parliamentary speaker and a key figure behind the ongoing protest rally outside the public broadcaster, said on May 22, that after talks with leaders from the Georgian Party it was decided that Maestro TV would "start broadcasting from here" – the protest venue. She said that it would be like a shield for protesters as breaking up of the rally by the authorities would amount to breaking into the TV station, something similar to what had happened in 2007 with Imedi TV, when the authorities raided at the time pro-opposition TV station after breaking up anti-government demonstrations.
"Maestro TV is fulfilling its professional duties and is covering developments based on the interests of viewers and in line of its specific news programming. Maestro TV is an independent media outlet and is not intending to take into consideration interests of any political party," the Maestro TV said in the statement.
"We call on the politicians to refrain from manipulated with Maestro TV in their comments and remarks," it said.
In March, 2011 50% of Maestro TV's shares were obtained by Giorgi Gachechiladze, who is the brother of the Georgian Party's co-founder Levan Gachechiladze. A month later he sold his 25% of shares to his friend Maka Asatiani, who is a wife of a wealthy Georgian businessman Kote Gogelia; the latter is also affiliated with the Georgian Party. A company founded by Erosi Kitsmarishvili, a political secretary of the Georgian Party, took over the Maestro TV's management rights in November, 2009.