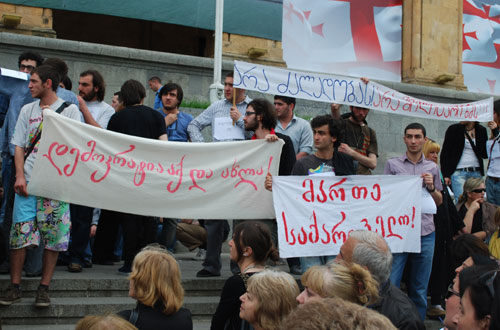 Protesters at the May 29 rally hold banners reading: No to Violence, No to Militarism; Democracy Here and Now. Photo: Civil.ge
Few hundred people gathered on Sunday outside the Parliament to condemn May 26 break up of the protest rally, calling for investigation of excessive use of force by the police.
The May 29 rally was much smaller than the similar one a day earlier.
One policeman and at least three protesters died on the night when the rally outside the Parliament was dispersed by the riot police with water cannons, rubber bullets and teargas.
According to the Interior Ministry none of the deaths were caused by the riot police actions. The death of a policeman and one protester has been attributed to a car crash when a motorcade, taking several protest leaders, including Nino Burjanadze, away from the protest scene, drove into the crowd. According to the official version, the death of two other protesters was caused by electrocution on a roof of a shop, close to the protest venue.
After the May 28 rally, which was not organized by the political parties, Nino Burjanadze, said that she was grateful to those who gathered at that rally. "It means the nation is waking up," she told journalists on May 28.
"As far as I know there will be a similar rally tomorrow [on May 29] too and I call on everyone to force these authorities through peaceful protests to go away," she said.
Although political parties were not among organizers of the rally, some individual opposition politicians appeared at the rally on May 28. They, however, made no speeches at the rally, as many people at the gathering were voicing criticism towards the political leaders. Many participants of the May 28 rally, who spoke to Civil.ge, were also slamming Burjanadze, putting blame on her too for the developments overnight on May 26.
Meanwhile on Sunday, an opposition party, Our Georgia-Free Democrats (OGFD), led by Irakli Alasania, called for the parliamentary probe into the break up of the May 26 protest.
"Protest against violence, expressed by thousands of people at the yesterday's [May 28] rally by the civil society groups, has demonstrated that the Georgian nation will not tolerate injustice," OGFD said in the statement, which questions official version of causes of death of the protesters.
"A parliamentary investigative commission should immediately be established. Independent experts and respected individuals should be invited to take part in the work of the commission," OGFD said.