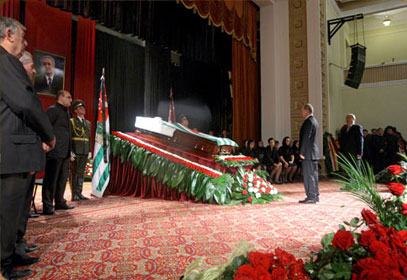 Russia's PM stands in front of the open coffin at the funeral of Abkhaz
leader Sergey Bagapsh, Sokhumi, June 2. Photo: Russian PM's press office.
Russia's Prime Minister, Vladimir Putin, arrived in Sokhumi on June 2 to attend a funeral ceremony of the breakaway region's leader Sergey Bagapsh, who died on May 29.
Putin bowed his head in front of the open coffin and then approached Bagapsh's daughter and widow to express his condolences.
Bagapsh who died a week after lung surgery in a Moscow hospital at the age of 62 will be buried in his home village of Jgiarda in the Ochamchire district.
Although problems with Bagapsh health were rumored in Abkhazia, his death anyway came as a surprise.
Vice president Alexander Ankvab is now an acting president before the snap elections, which should be held within three months. Commentators with knowledge of the Abkhaz affairs predict that Ankvab, along with the breakaway region's prime minister Sergey Shamba, as well as opposition figure Raul Khajimba are likely candidates for the presidency. Some also mention the name of Abkhaz businessman and a politician Beslan Butba among the potential candidates.
Georgian Deputy Foreign Minister, Nino Kalandadze, said a day after Bagapsh death that passing away of the Abkhaz leader would not "change anything significantly" for Tbilisi. She also said that it would be difficult to predict how events would develop there taking into consideration that Abkhazia "is occupied and controlled by Russia."