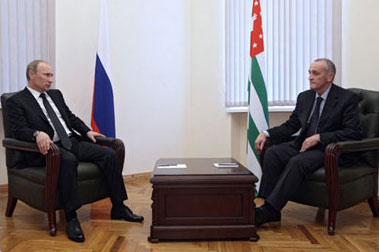 Russia's PM Vladimir Putin (left) at a meeting with acting president
of breakaway Abkhazia Alexander Ankvab in Sokhumi, June 2.
Photo: Russian PM's press office.
Russia's PM Vladimir Putin held two separate meetings in Sokhumi with breakaway Abkhazia's PM Sergey Shamba and Vice President Alexander Ankvab, who is now region's acting president.
Putin arrived for an unannounced visit to Abkhazia on June 2 to attend funeral of Abkhaz leader, Sergey Bagapsh, who died in a Moscow hospital on May 29.
"What has happened was an absolute surprise and it is a great loss for Abkhazia and for Russia, because Sergey Vasilevich Bagapsh did a lot for making Abkhazia independent state and for development of Russian-Abkhaz relations. First steps of Abkhazia as an independent state are directly linked to his name," Putin said at a meeting with Ankvab.
"A joint plan on rehabilitation of economy and social sphere of Abkhazia is ongoing. It is our joint duty to continue this work and continue everything that has been launched in previous years," he said in the same remarks, which were posted on the Russian PM's official website.
"The Abkhaz people can be sure that Russia, as the closest ally and reliable friend, will stand by the Abkhaz people and help to overcome problems – leftovers of the past," Putin said.
Ankvab thanked Putin for "being with us in this difficult time".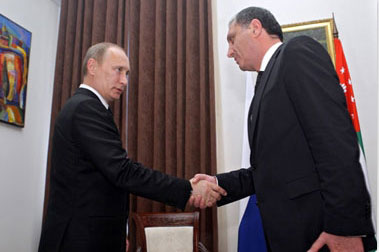 Russia's PM Vladimir Putin (left) at a meeting with breakaway
Abkhazia's PM Sergey Shamba in Sokhumi, June 2.
Photo: Russian PM's press office.
At a separate meeting with Shamba, PM Putin reiterated that he regretted that the meeting was taking place against the background of tragic occasion.
"But life is life and it continues and the government is carrying out very important duties in economy, in the sphere of resolving social problems. We have a joint inter-governmental commission, which works successfully," Putin told Abkhaz PM Shamba.
"There are lots of problems and tasks, which require to be solved," he continued. "We've talked about reconstruction of infrastructure, first and foremost railway link and building of highways, restoration of air transportation, building reliable links with the Russian ports."
"We are sure, that relations between Russia and Abkhazia will be developing in all directions. We will foster your international ties with all the states, including with your closest neighbors."
"Time will heal all the wounds. I hope, that all the relations will be established between the Abkhaz and Georgian people too. In anyway, I already told the Vice-President [Ankvab], that you can count on Russia's support. You know, that we have allocated in the budget over 10 billion rubles [about USD 358.2 million]. We are ready not only to implement existing plans in frames of this funding, but also to consider implementing other large-scale projects," Putin said.
Shamba, like Ankvab, thanked PM Putin and Russia for "impressive" memorial service for Sergey Bagapsh in Moscow.
"It was a clear and highlighted demonstration of those special relations which [Russia] has towards our country and towards personally to Sergey Bagapsh," Shamba said.
Shamba also said that the work on ongoing bilateral projects would continue as planned.
Vice president Alexander Ankvab is now an acting president before the snap elections, which should be held within three months. Commentators with knowledge of the Abkhaz affairs predict that Ankvab, along with Shamba, as well as opposition figure Raul Khajimba are likely candidates for the presidency. Some also mention the name of Abkhaz businessman and a politician Beslan Butba among the potential candidates.