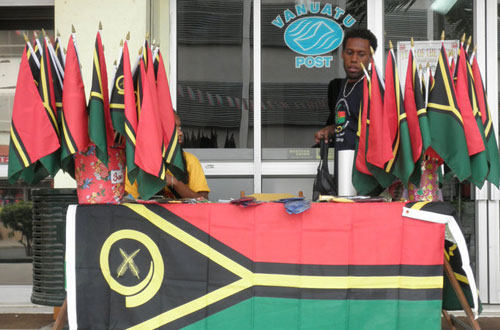 Vanuatu's flags seen during a celebration of the island nation's Independence Day. Photo taken from
Facebook page
of Vanuatu's government.
After denial by its UN representative, Vanuatu's another official now says that the Pacific island nation has in fact recognized Abkhazia, Radio New Zealand International reported on June 7.
John Shing, senior advisor of Vanuatu's PM, said technically speaking Vanuatu has agreed to Abkhazia's request on recognition and the reasons why would be revealed soon, Radio New Zealand reported.
Also on June 7, Russia's daily Kommersant published a copy of an agreement signed by breakaway Abkhazia's PM Sergey Shamba and Vanuatu's PM Sato Kilman on establishment of diplomatic relations.
Last week Vanuatu's permanent representative to the UN, Ambassador Donald Kalpokas, has strongly denied Abkhazia's claims that it had been recognized by Vanuatu.
The Kommersant reported that conflicting reports surrounding the issue might be caused by an internal political strife. wherein Ambassador Kalpokas, who was PM of Vanuatu twice in the past, is a political rival to PM Kilman. The latter himself was reinstated as PM on May 13, less than a month after he was unseated from his post.
Back in 2004, amid internal disagreements, Vanuatu's then PM Serge Vohor recognized Taiwan, but his cabinet withdrew the recognition a week later.