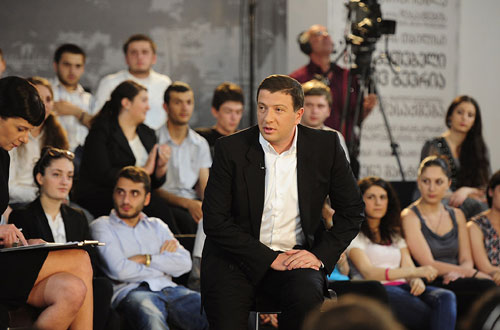 Tbilisi Mayor, Gigi Ugulava, at a town hall-type of a meeting via Facebook, moderated by Tamar Chergoleishvili (left), an editor-in-chief of weekly news magazine Tabula. Photo:
Tbilisi Mayor's Office
Tbilisi Mayor, Gigi Ugulava, said that for Georgia, which was striving for foreign direct investments, it was now a priority to have "a comfortable" environment for an employer rather than to make focus on labor rights.
"Until we are so much dependent on direct investments, we are obliged to defend and create comfort for the employers – people, who are bringing money," Ugulava said during a town hall-type of a meeting via Facebook on June 9.

"After 10 years, 15 years, when the level of unemployment is no longer as high as it is now and when the unemployment may no longer be number one problem, naturally, the issue of increasing salaries and the issue of defending employees rights vis-à-vis employers will be raised," he said.
Ugulava also said that simply "copy-pasting good European laws" would not help if it's not tailored to the situation on the ground. "There will be no labor at all to protect their rights if we adopt these good laws now," he said.
"It was a classical attempt of coup d'état."
He said now the government's priority was to attract investments, which need protection and "any government, who has a responsibility, real desire and political will to create additional jobs, is obliged to act this way."
Georgia's labor code, passed in 2006, is slammed by local and international trade unions. International Labour Organisation (ILO) has expressed concerns with the lack of compliance, by Georgia with core labor conventions.
EU said that if unaddressed, these concerns put at risk Georgia's continuing inclusion in the EU's General System of Preferences (GSP+) which allows Georgia to benefit from trade preferences from the EU. GSP+ system, however, itself remains underused by Georgia.
Concerns over labor rights in Georgia have also been raised by the United States. During a review of Georgia's human rights situation by the UN Human Rights Council on June 8, the U.S. representative John C. Mariz expressed concern about the broader worker rights situation in Georgia. He said the U.S. "strongly supported" a recommendation to establishing a labor inspectorate in Georgia. Since the abolishment of the labor inspectorate in 2006, no other supervisory agency had been created to ensure full compliance with labor laws.
Ugulava made the remarks during a town hall-type of a meeting via Facebook live streamed over the Internet for about two hours on June 9 – the first of this type by a Georgian government executive. Ugulava was responding to questions posted on his Facebook page with topics ranging from the capital city's infrastructure and stray dogs to such political issues like recent street protest rallies, which came to a violent end on May 26.
On this latter issue Ugulava said that there had been cases of excessive use of force by the police. He, however, also said that those cases, which lasted "for five-seven minutes was caused by the shock" riot policemen experienced after learning that a motorcade of protest leaders drove into the crowd killing a policeman.
He also said that when there were calls for setting up a commission to probe into the May 26 events, such commission should first of all give "a political assessment" to the entire process and not to the concrete events that took place outside the Parliament shortly after the midnight on May 26.
"It was a classical attempt of coup d'état," Ugulava said.