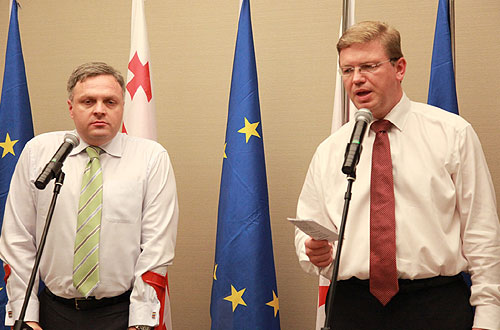 Giorgi Baramidze, the Georgian State Minister for Euro-Atlantic Integration (left) and Stefan Füle, the EU Commissioner for Enlargement and European Neighborhood Policy at a joint news conference in Batumi, July 22. Photo: Guram Muradov/Civil.ge
Stefan Füle, the EU commissioner for enlargement and European neighborhood policy, has called on the Georgian authorities to use the Eastern European summit in Warsaw in late September "to present Georgia as a country committed to reforms, committed to European path."
Speaking at a joint news conference with Giorgi Baramidze, the Georgian State Minister for Euro-Atlantic Integration, Füle said on July 22, that Georgia has made "a tremendous progress" in recent years.
He, however, said that there were four major points in terms of domestic politics which were "important now for Georgia to focus on."
"The first one is a consolidation of democracy; the second is political pluralism, including plurality of media; the third one is independence of justice and the fourth one is to create more inclusive environment in this country and involving in the reform process of all the stakeholders," said the EU Commissioner, who is in Batumi on the occasion of international conference Georgia's European Way.
'Need for Clear System of Checks and Balances'
Füle spoke about these issues in more details during his address to the international conference in Batumi earlier on July 22. He said that "democracy in Georgia needs to be consolidated."
"There needs to be a clear system of checks and balances. There needs to be a more tolerant and pluralistic political culture," Füle said.
He said that 2012 parliamentary and 2013 presidential elections "demand a level playing field to be truly successful."
"These elections will be important test cases for Georgian democracy. In the meantime, all the political forces and also civil society representatives should engage together on the reform of the electoral system," the EU commissioner said.
On the judiciary he said that "political influence over the judicial system cannot be tolerated anywhere and this is something the European Union monitors closely."
"Here also I believe there is room for improvement in Georgia," Füle said.
'Another Georgia beyond Splendid Boulevards'
On social and economic issues, Füle said that Black Sea resort town of Batumi with its infrastructure reconstruction projects was "a great example of how Georgia is developing swiftly."
"However, I believe there is another Georgia beyond the splendid boulevards of Batumi – a Georgia that needs sustainable growth; a Georgia that needs to reduce social and regional inequalities; a Georgia that needs to create jobs for its workers and higher standards of living for its people. This is the European way," the EU commissioner said.
"If Georgia seriously chooses to pursue this way, it needs to undergo very comprehensive and resolute reforms. But at the end of this journey, there will be sustainable, balanced and long term development for everyone," he added.
Free Trade Agreement
Speaking at a joint news conference in Batumi, Georgian State Minister and Deputy PM Giorgi Baramidze said that one of the key issues discussed during the meeting was prospects of launch of talks on deep and comprehensive free trade agreement (DCFTA) with EU.
Baramidze said that free trade agreement with EU "is directly linked to welfare of our population, because it is about attracting more investments." He also said having DCFTA would "actually mean full integration within EU."
"That will be an important, huge step forward. We have good prospects for that," Baramidze said. "Mr. Füle said today that soon – and possibly in September – the date when talks on [DCFTA] may start will be announced. We absolutely believe that all the issues [related to the launch of DCFTA talks] will be accomplished successfully."
Speaking at the same news conference, Füle said that Georgia made a progress on the key recommendations required for the start of talks on DCFTA. He said it was up to EU-member states to announce the date when negotiations on this agreement would start.