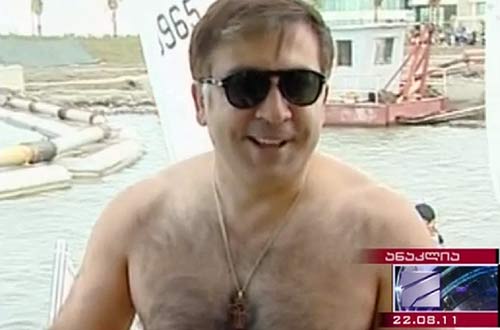 A TV grab of President Saakashvili during a boat ride off cost of Anaklia hours before the opening ceremony on August 22.
Instead of responding to Russia's military build up in Abkhazia with building defensive tranches, Georgia has chosen a different path with developing spa resorts just next to a wall dividing the breakaway region from the rest of Georgia, President Saakashvili said on August 22.
He was speaking at a ceremony marking an opening of a resort in Anaklia on Georgia's Black Sea coast close to breakaway Abkhazia.
Saakashvili made Anaklia part of his landmark speech in the European Parliament last November, calling it a new tourism resort "in front of the Iron Curtain that the occupation forces" have built around Abkhazia.

Valencia-based CMD Ingenieros, an engineering and architecture company, which has designed up to 20 various government-commissioned projects in Georgia, including the new Parliament building, was contracted by the authorities to design Anaklia's landscape and construction project for a coastal park and promenade with an estimated worth of EUR 16.5 million.

A 540-meter pedestrian bridge crossing the mouth of the river Enguri has been built to link Anaklia with Ganmukhuri, a village just next to the Abkhaz administrative boundary line. The ceremony in Anaklia was accompanied with fireworks and performance of Georgian singers with some of them singing songs about Abkhazia.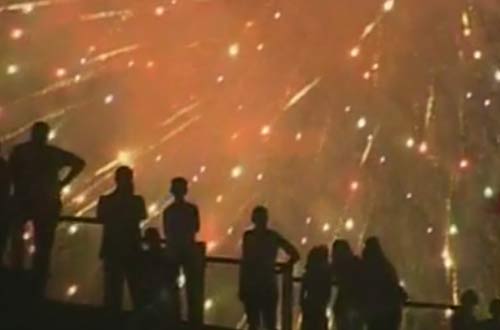 TV grab of people watching fireworks in Anaklia, August 22.
"If they [referring to Russian troops in Abkhazia] are listening now I want to tell them not to declare state of alert, it's just fireworks," Saakashvili said. "They are not much afraid of rockets, they can kill hundred, thousand, ten thousand, hundred thousand of own citizens without hand trembling."
"But they are scared to death of fireworks, songs, spirit of freedom and spirit of rebuilding," Saakashvili added.
Referring to the Russian soldiers in Abkhazia, he said: "Our enemy in thier musty [military] unit - no one gonna serve them Elarji [corn porridge with Sulguni cheese] and I am sure they are having thier oat porridge and pea and even most of that is snatched by thier officers - are watching with sorrowful eyes as they apparently can't understanding why they have been deployed on that beautiful [Abkhaz] beach, why they are protecting emptiness behind them and from whom."
He said that Russia built a dividing wall and launched military built up in Abkhazia and in this condition many countries might have responded with building defensive trenches and by deploying soldiers "in order to stop further invasion of enemy".
"We have chosen a different path, which I think is the right path - five and seven-star hotels instead of tranches; the best aqua parks in Europe instead of land mines; this beautiful amphitheater with its dance club and very beautiful football fields and new spa resorts instead of new military bases," he said.
"On that side there is barbarism and on this side here is a civilization; on that side there is Mongoloid ideology and holdovers of that [ideology] and on this side here is a genuine, ancient Kolkhidian Europe, the ancient civilization so we will always prevail," Saakashvili said.
He also said that Anaklia alone would host 200,000 tourists by 2013 and about 400,000 by 2015. He said that Anaklia would turn into "the largest resorts on teh Black Sea."
He said that in overall Georgia will have 7-8 million tourists by 2015.